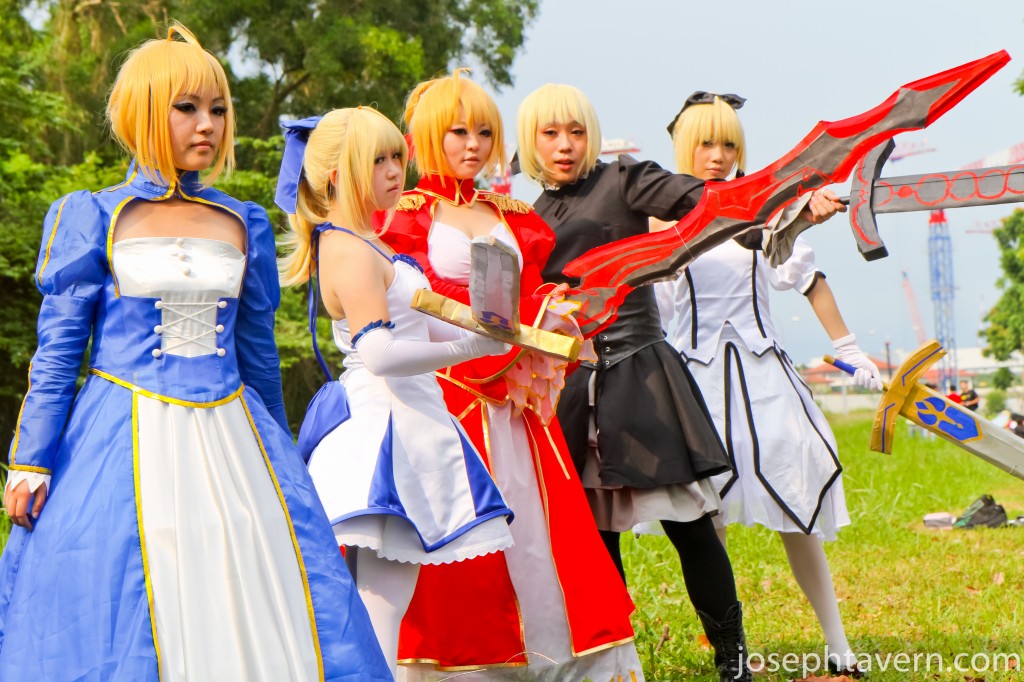 This year's AFA, had the largest crowd I ever saw since I started going two years ago. And yes, apart from life-sized Sabers, there were a lot of Dollfie Sabers…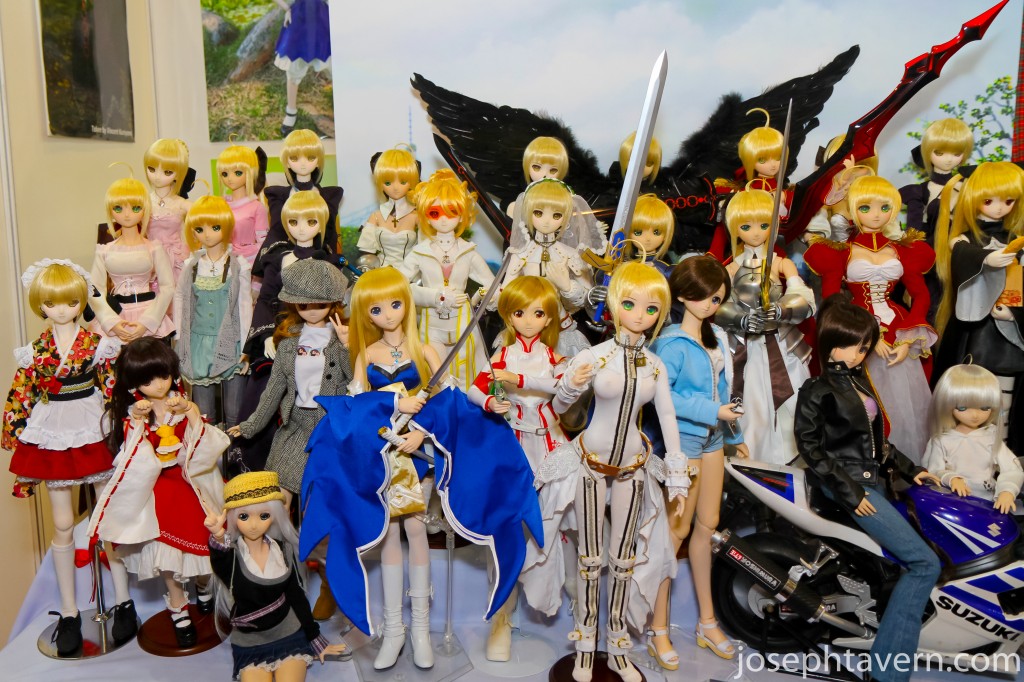 I counted up to 19 Sabers. Anyone had the official figures?

There is only one word to describe this year's AFA: Crowded….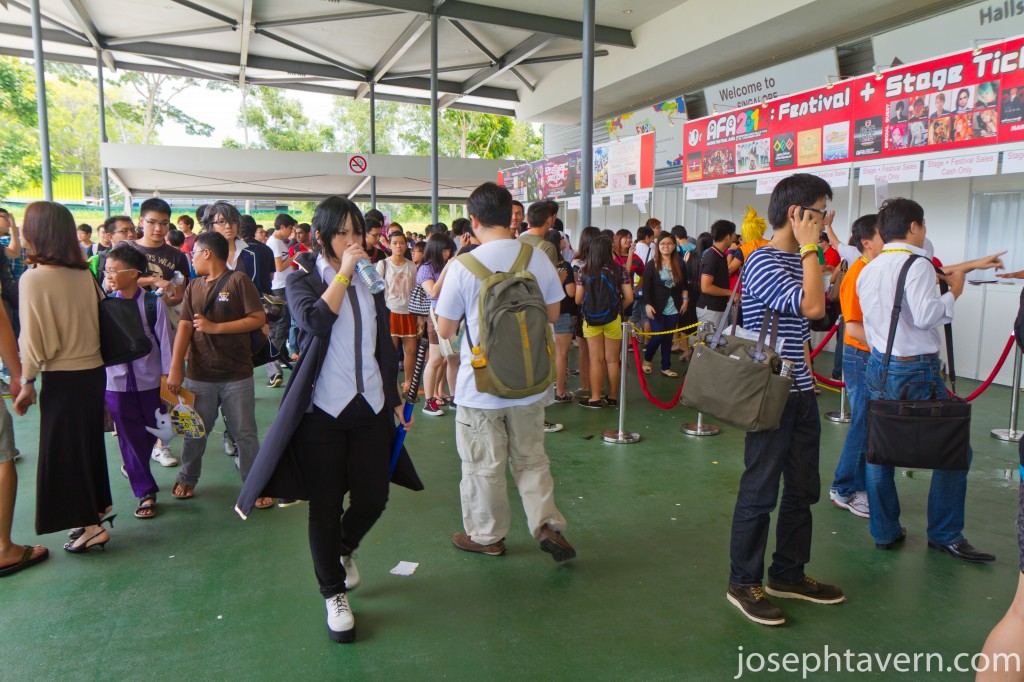 There are people queuing for the tickets….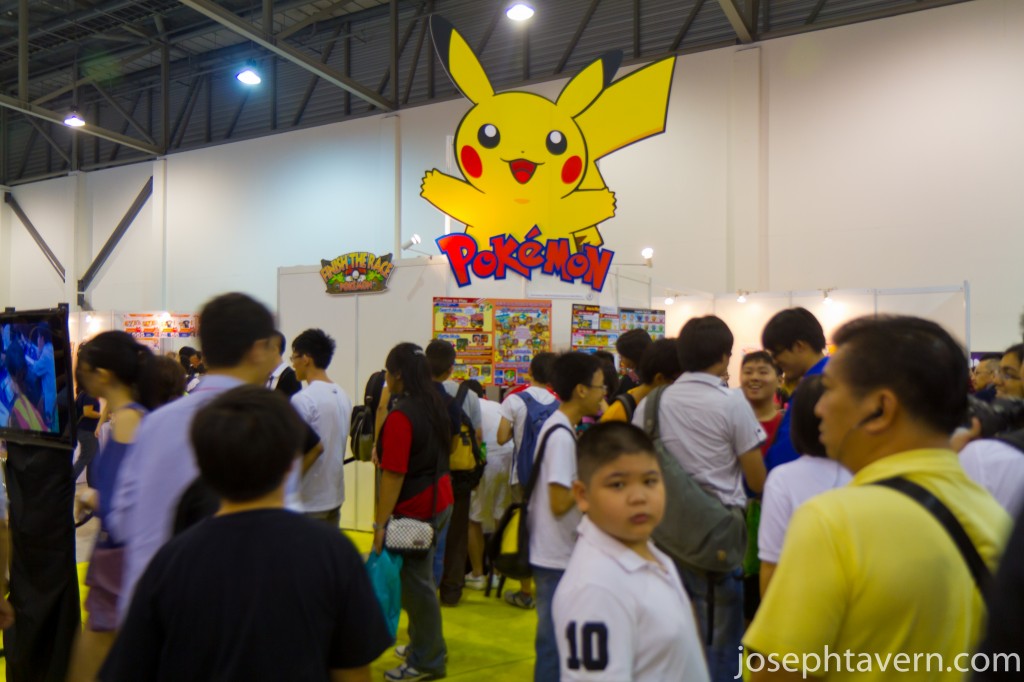 People were swarming the Pokemon booths…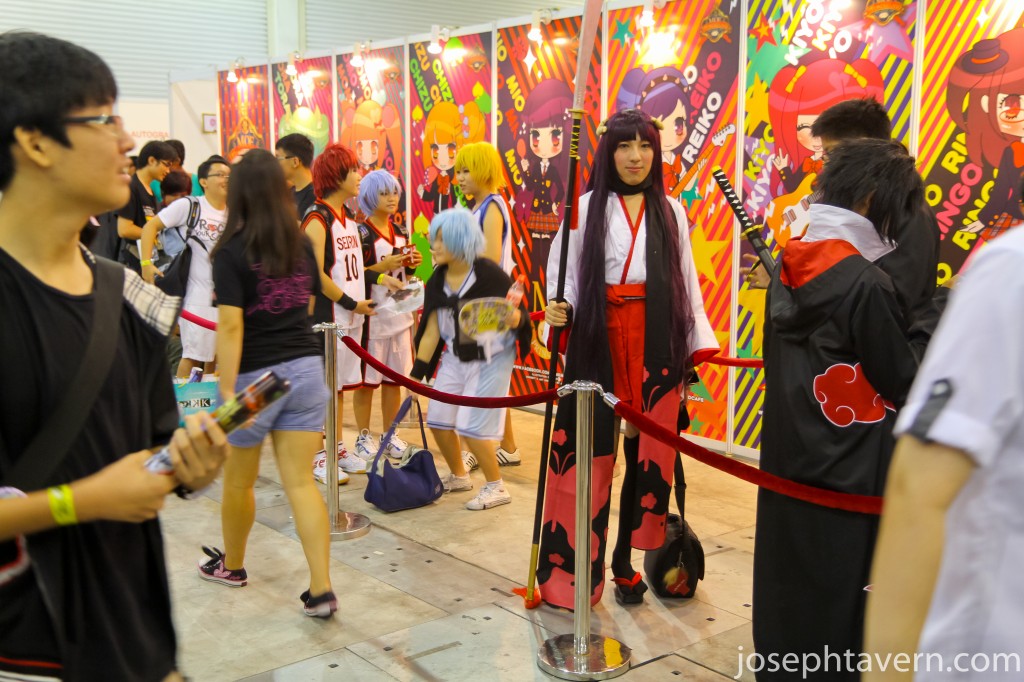 Cosplayers are queuing up for the Moe Moe Kyu Kyu Cafe…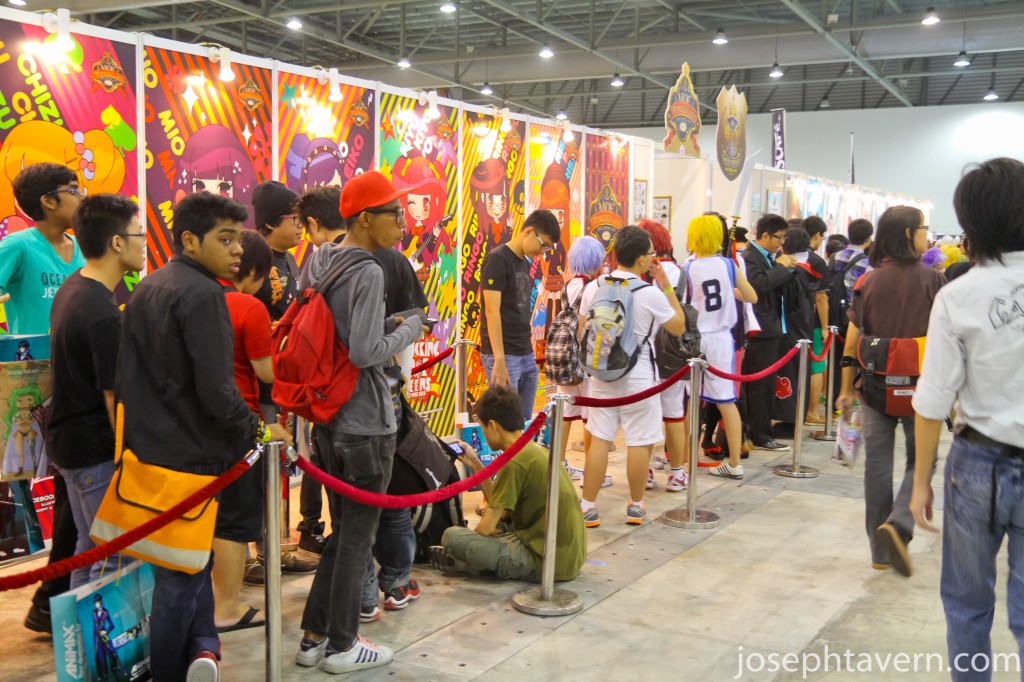 Many Comrades were seen queuing up for the Cafe as well.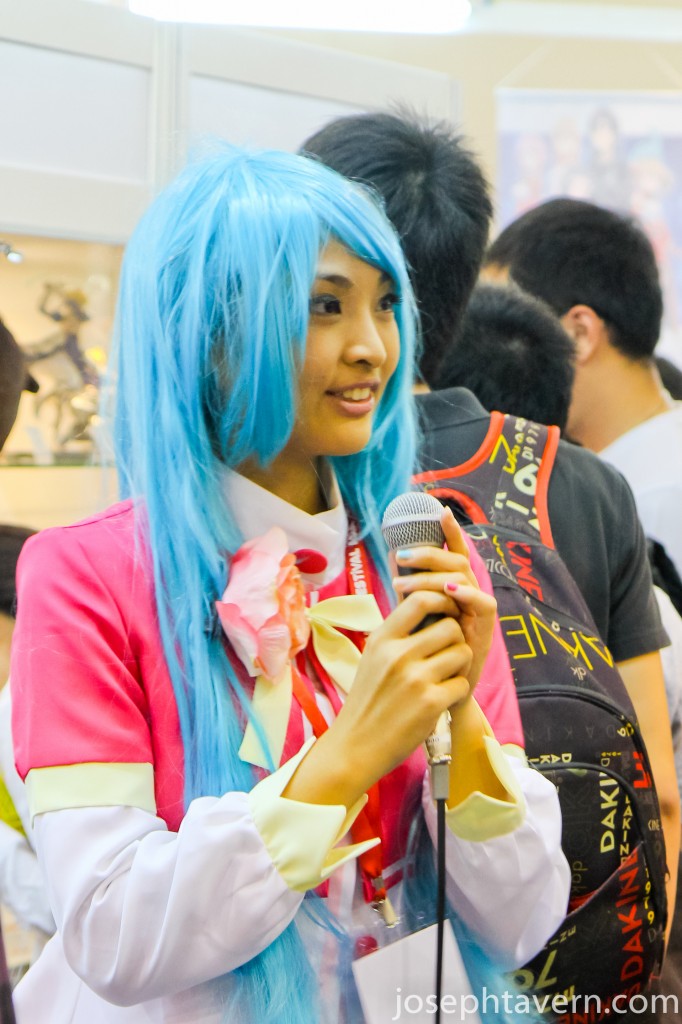 The Host of Nico Nico Douga Live Telecast was also seen cosplaying on both days.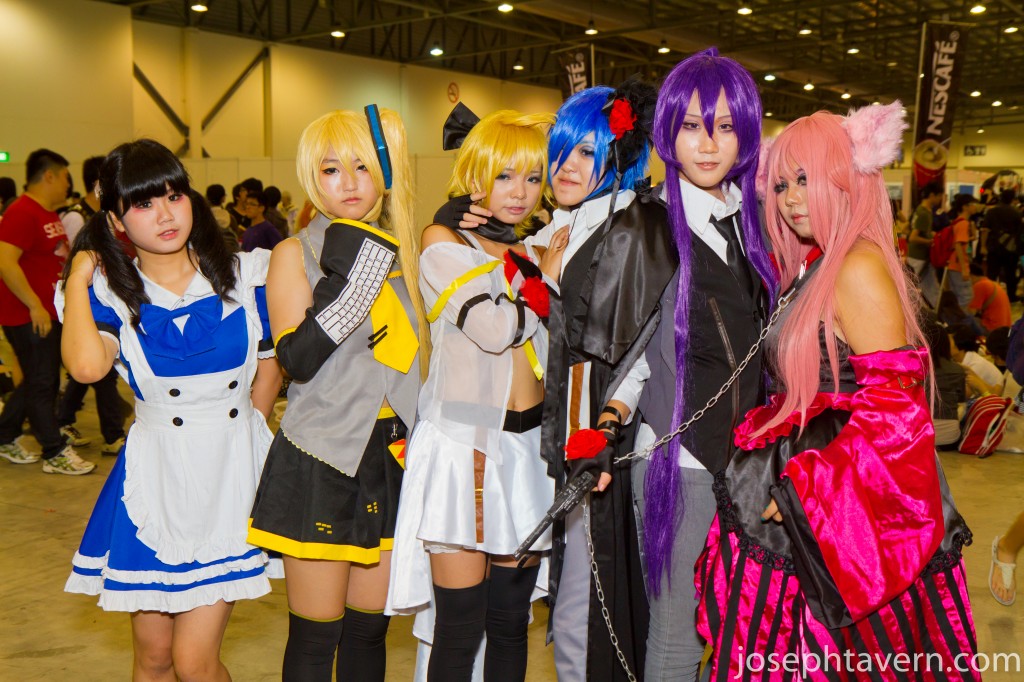 Rin, Alice and their friends gathered for the event.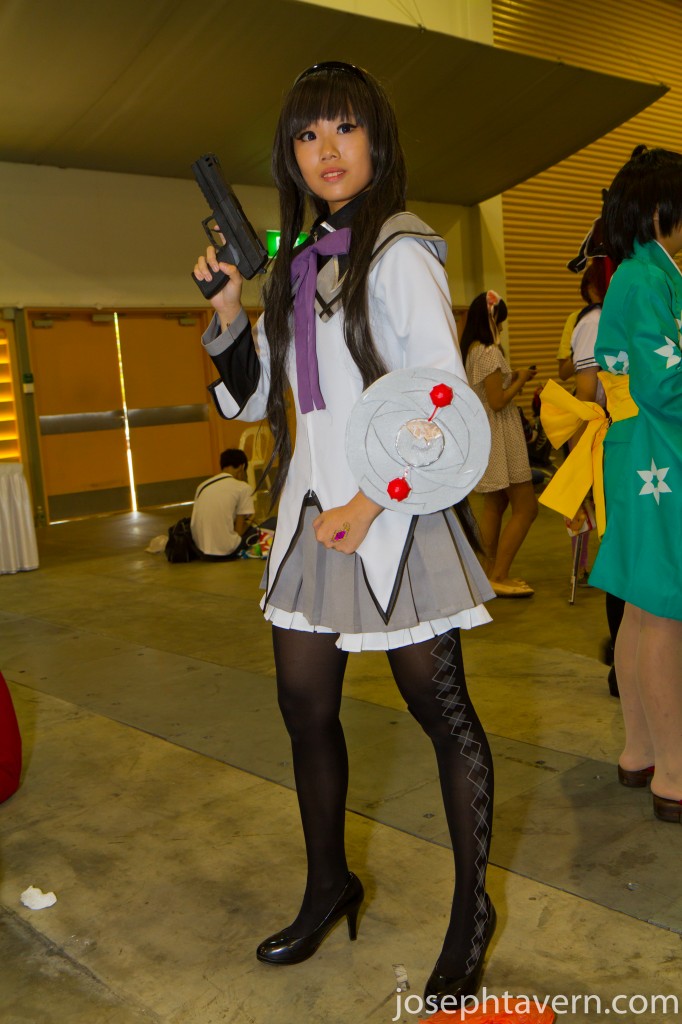 Homura Akemi decided to come to AFA earlier without her friends…
A character with seemingly unearthly legs coming out of her mouth. Do anyone of you know which character she is cosplaying??
I managed to catch Yu Narukami and Izanagi before they go on stage.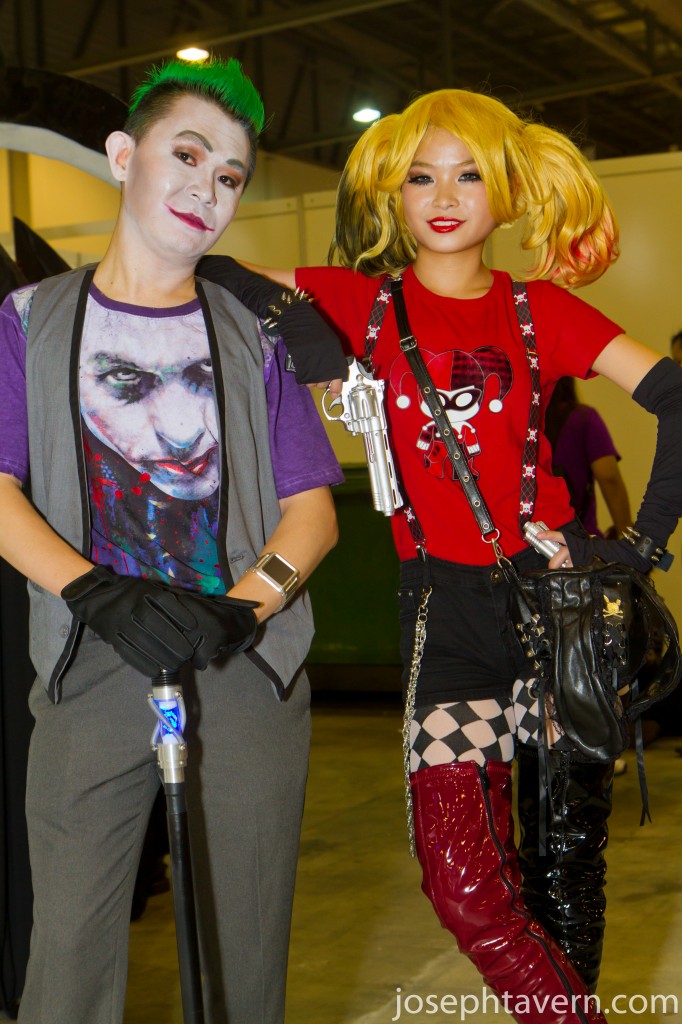 Joker and Harley Quinn paid AFA a visit as well.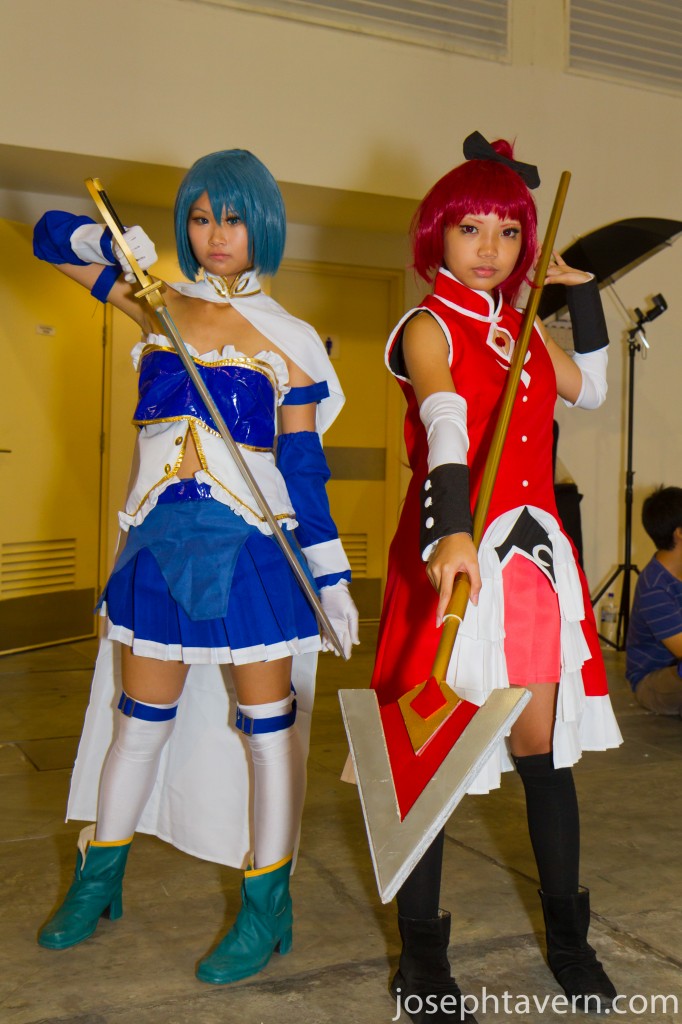 Sayaka Miki and Kyoko Sakura decides to join their friends at the cosplaying grounds…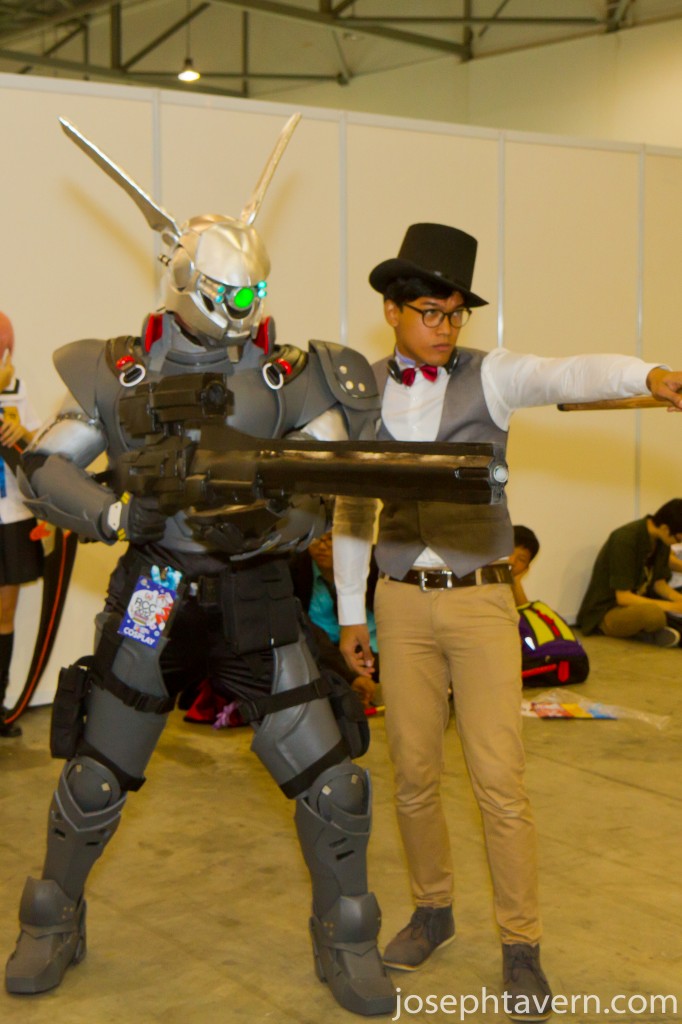 Richfield as Briareos with a comrade.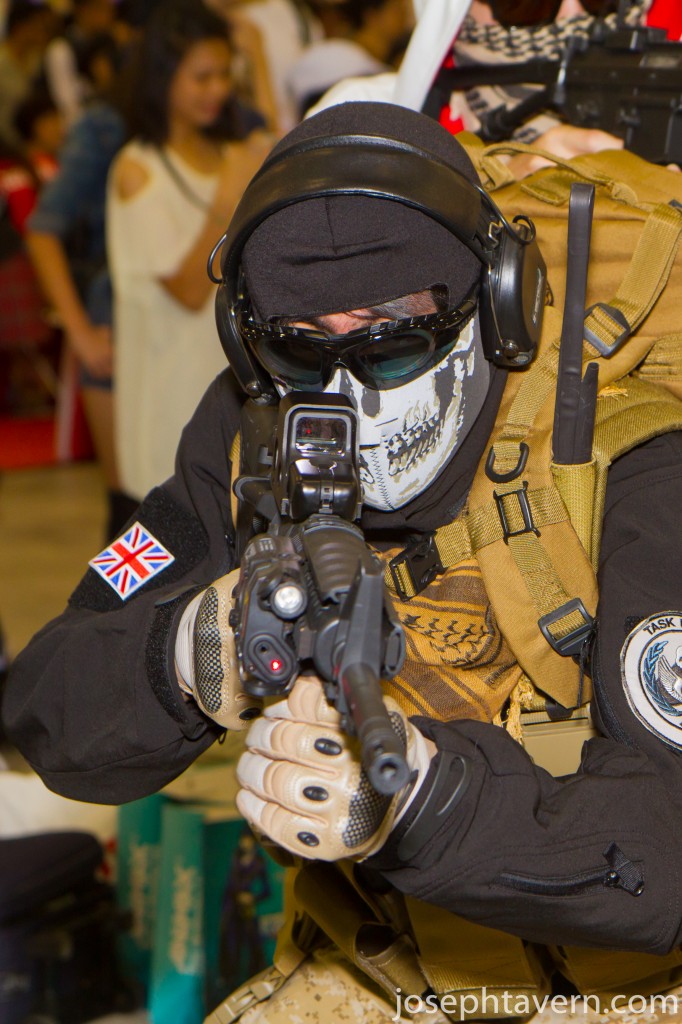 Some Special Task Force decides to comb the ground in case there are terrorists…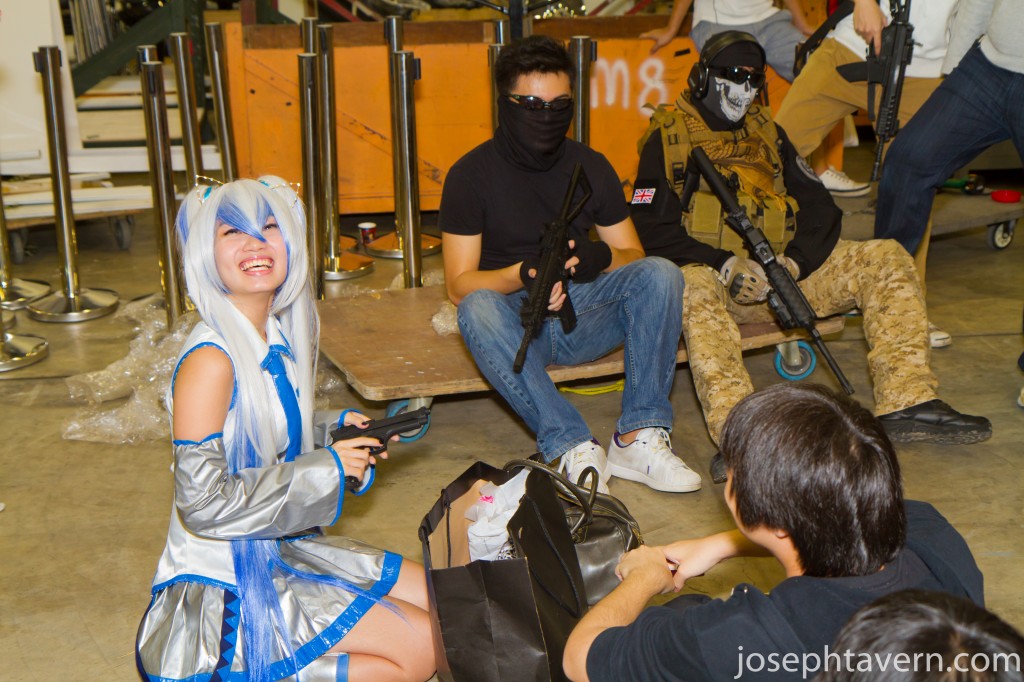 And look who is over there? Miyu-Chan!!! Happily chatting with her friends.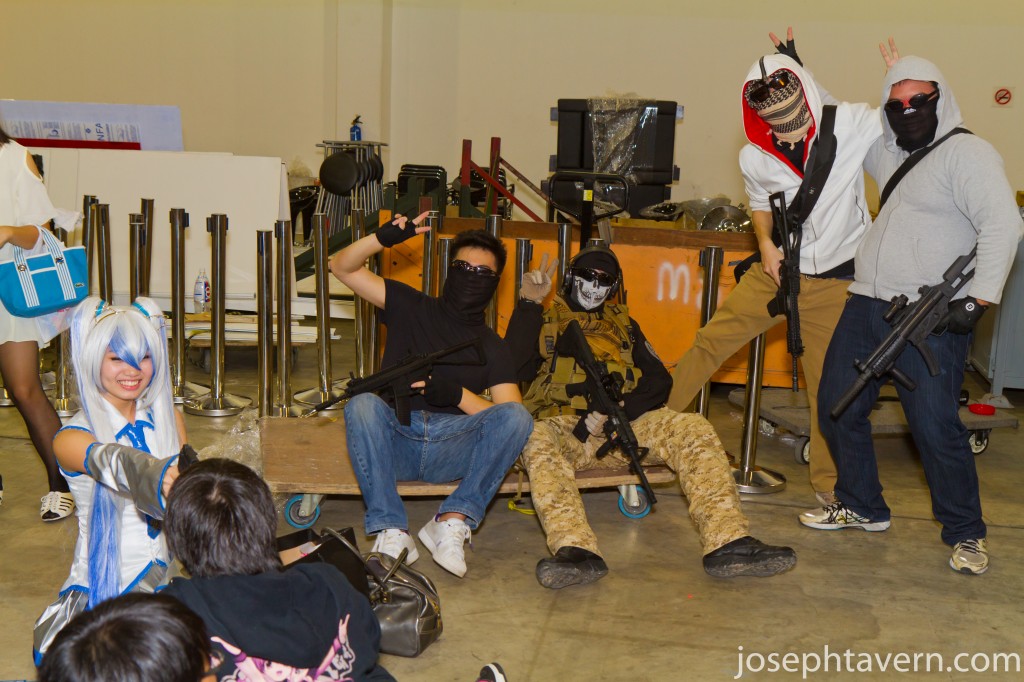 Special Task Force resting on a trolley, with Miyu-Chan trying to kill her friend on the left.
The conversation goes like this before this picture was taken.
Me: Hmmmm. Oh, I like taking pictures of Cosplayers in their natural forms, so, I shall take a photo of the Special Task Force that is resting over there.
Me: *snaps a few photos*
Me: *saw Miyu Chan and snaps her too*
Photographer 1: Hey, he is shooting something! Let's shoot too!!
Photographer 2: Hey, they are shooting something…. OMG!!! I must shoot the special Task Force resting also!!!
Special Task Force 1: What are you doing? They are taking photos of us again?!?!
Special Task Force 2: No! We are not doing anything!!
Special Task Force 3: Pose! Pose!
And that is how they started posing again.
Kudos to Cosplayers, who had to endure photographers like me who like to do a lot of "Street shooting".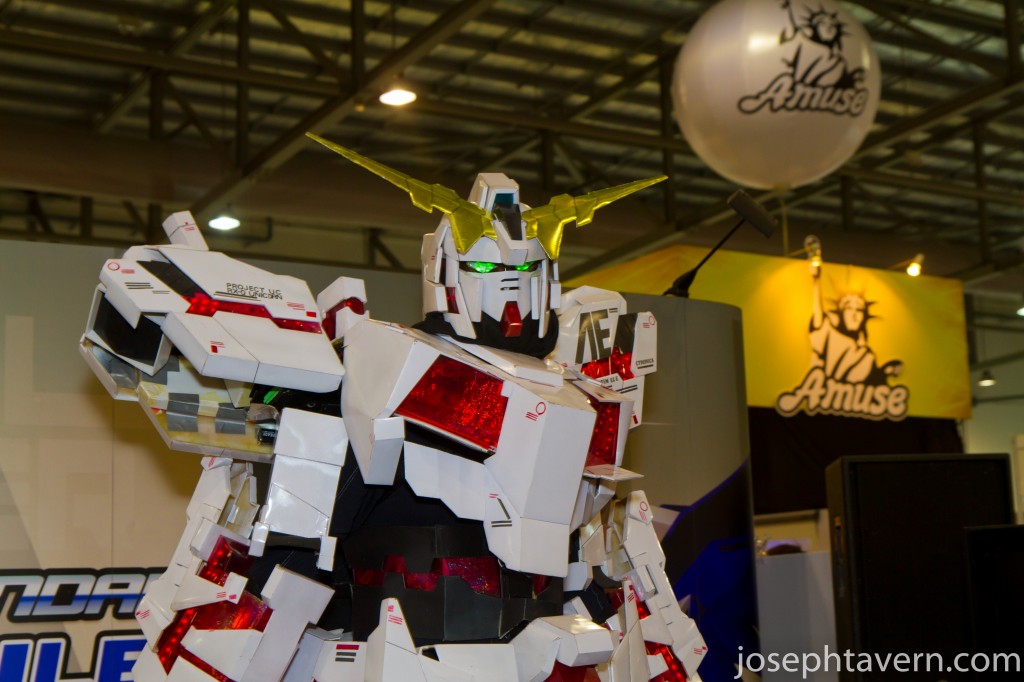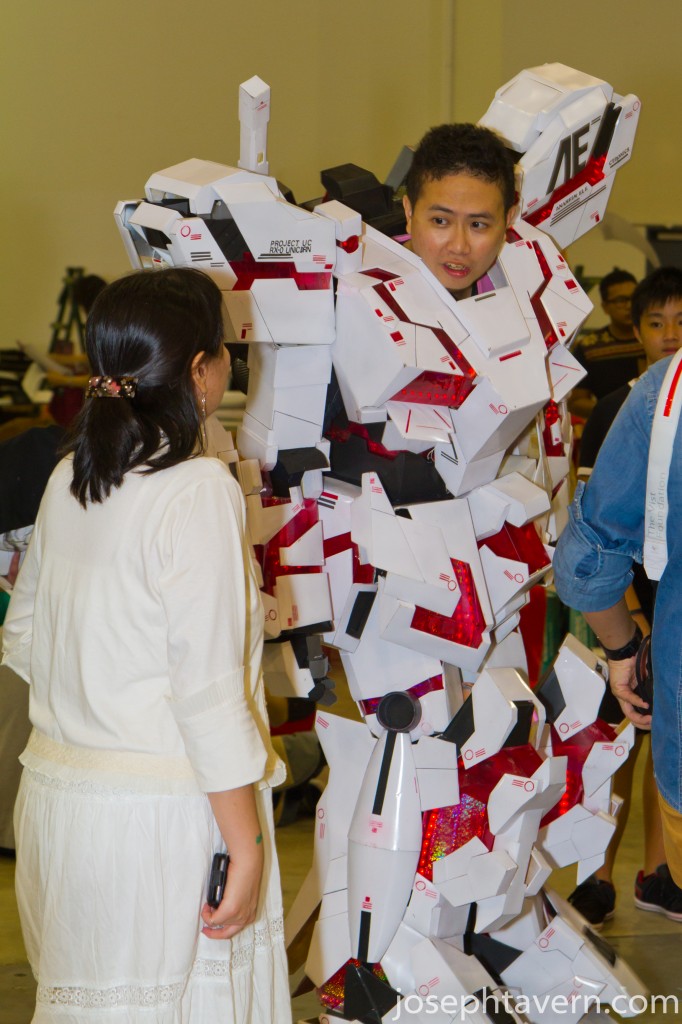 Mr Unicorn Gundam was spotted on the ground early.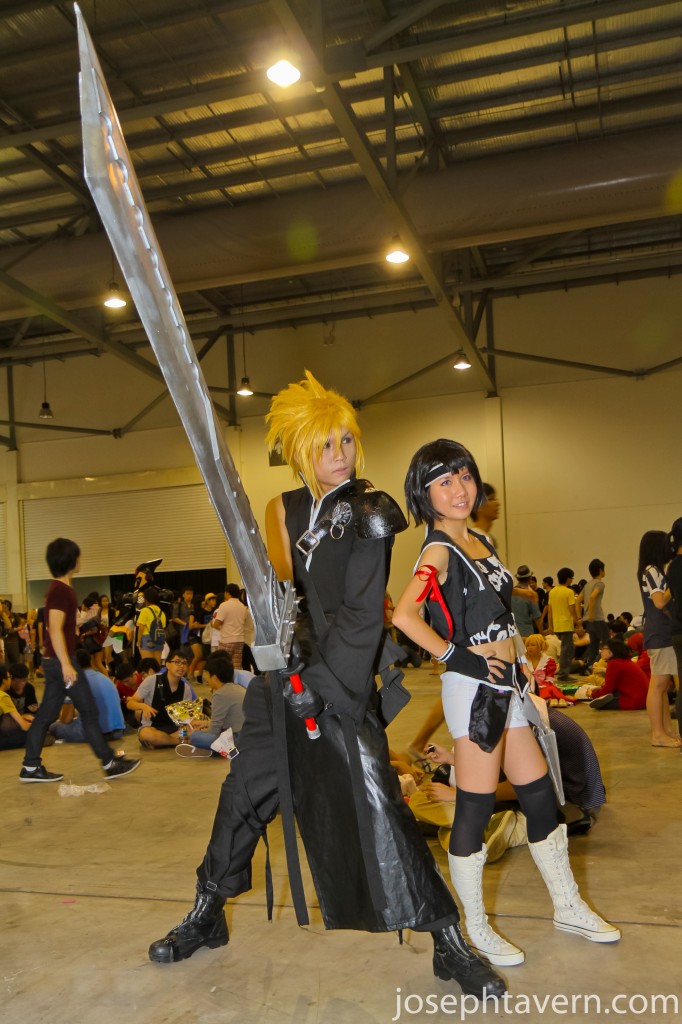 Cloud, with his famous Fusion swords, with Yuffie.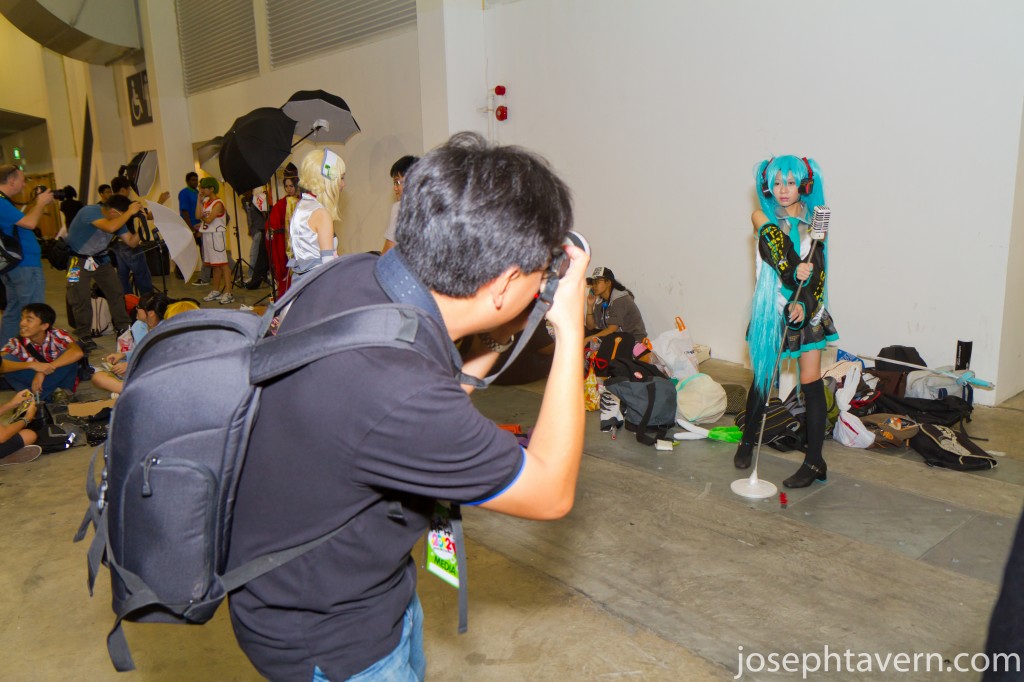 Miku getting shot… er… her photo shot by a fellow comrade.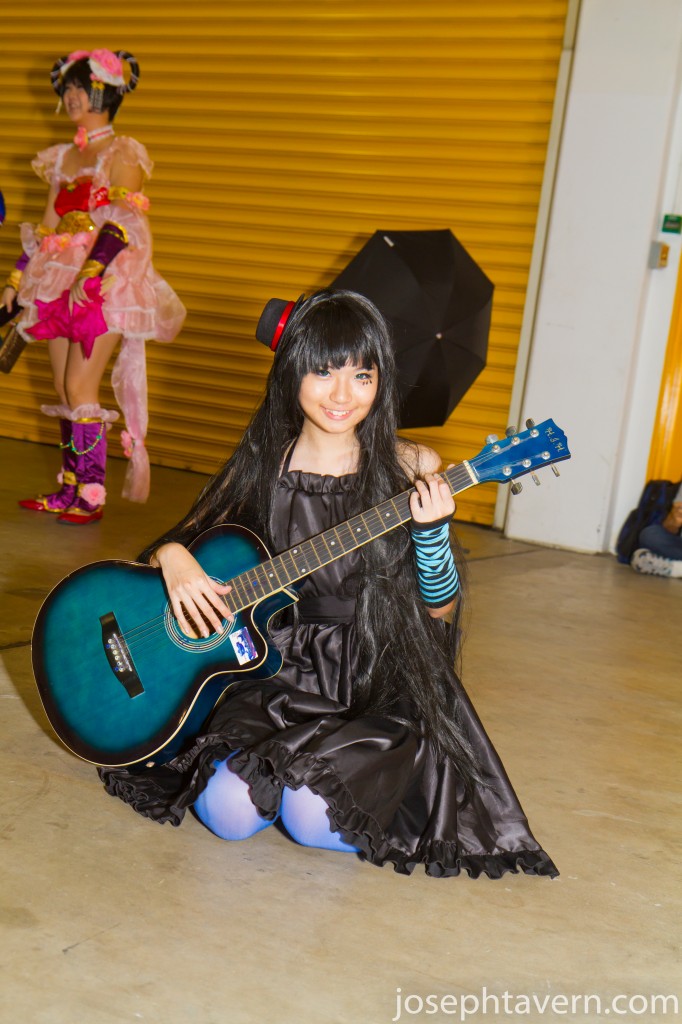 A cute Mio Akiyama with her guitar. Her hairs were slightly entangled in the strings of the guitars before this shoot was taken.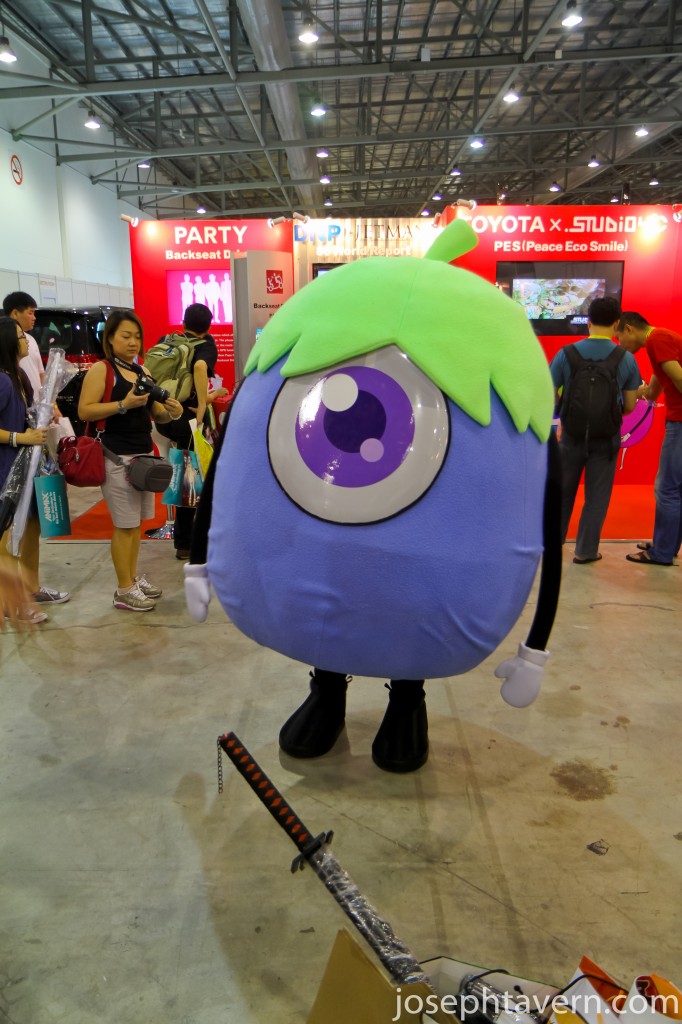 A huge purple eye was at the Toyota booth. At the bottom of the photo, you can see a wooden replica of a Samurai sword. These were going for SGD$20 per piece. I saw them practically on the hands of every other comrade.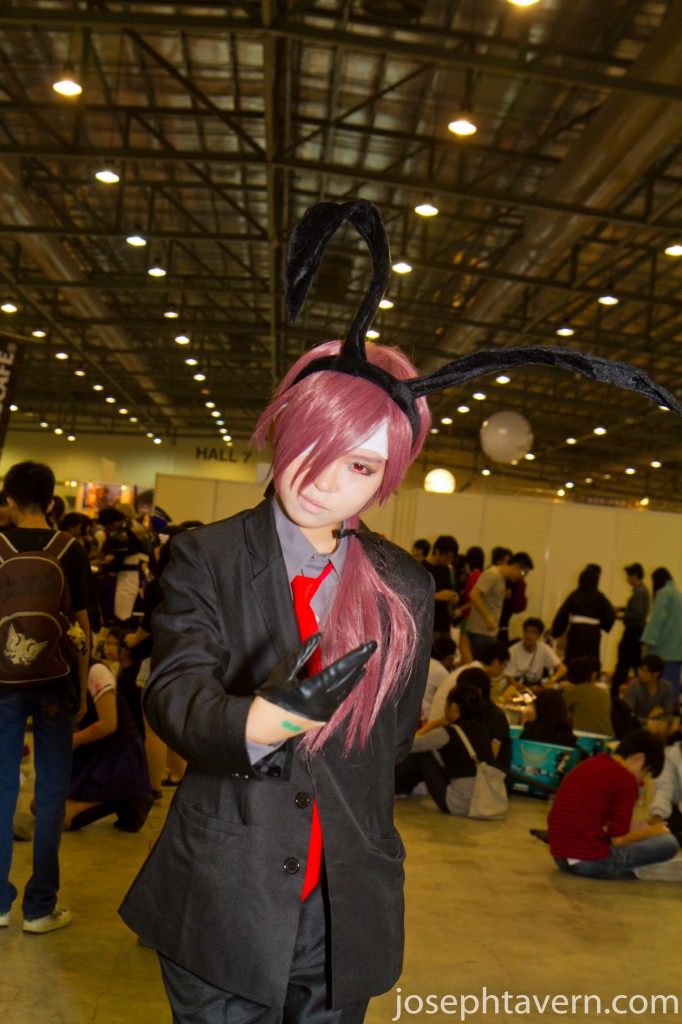 Zange Natsume giving me the "wanna die" look.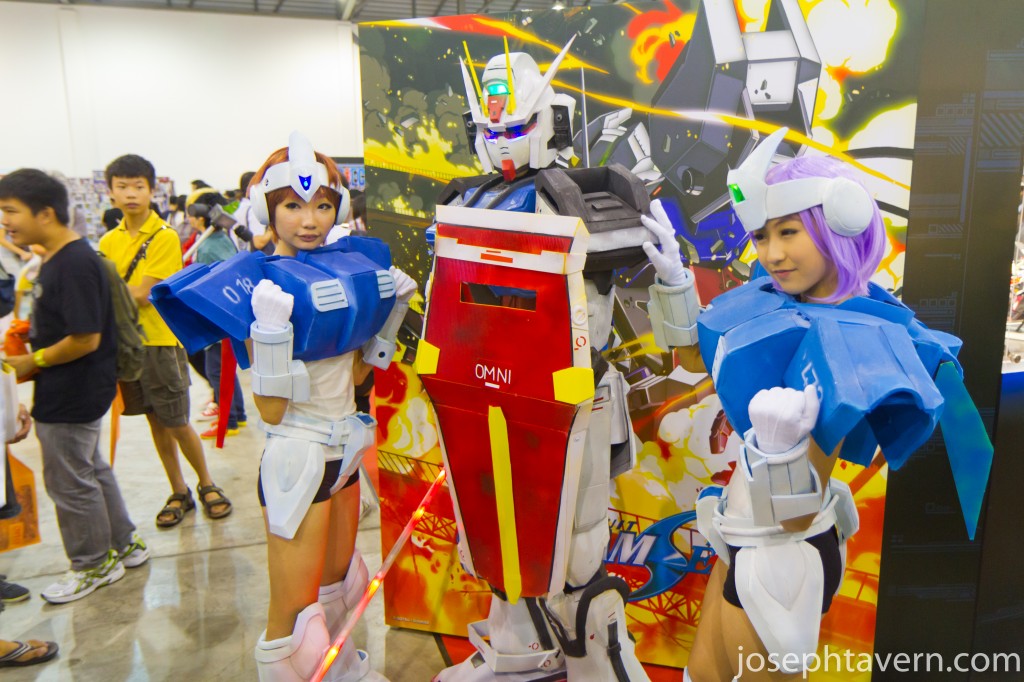 This X105 Gundam is so lucky. He had two ladies to escort him.

Here is X105 with his shield.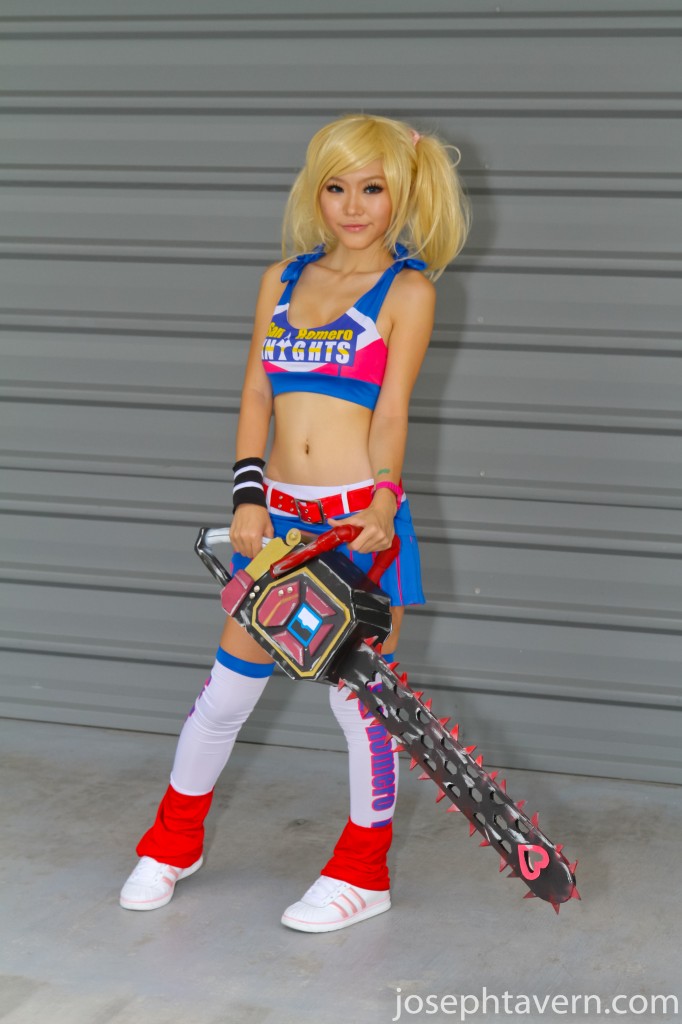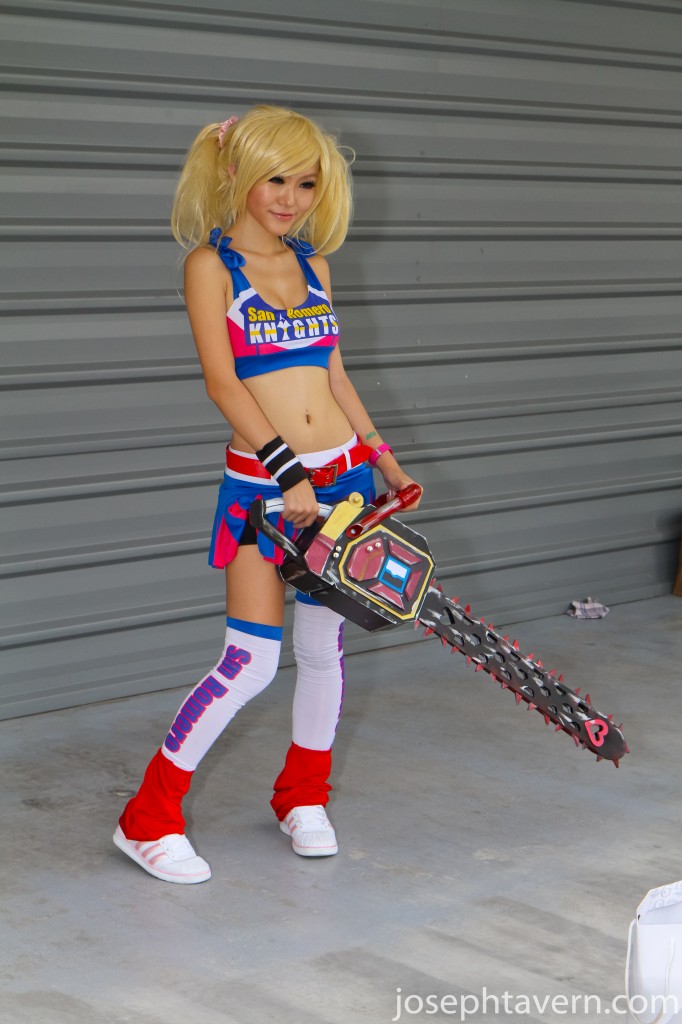 I caught Juliet from lollipop chainsaw cosplaying outside the halls.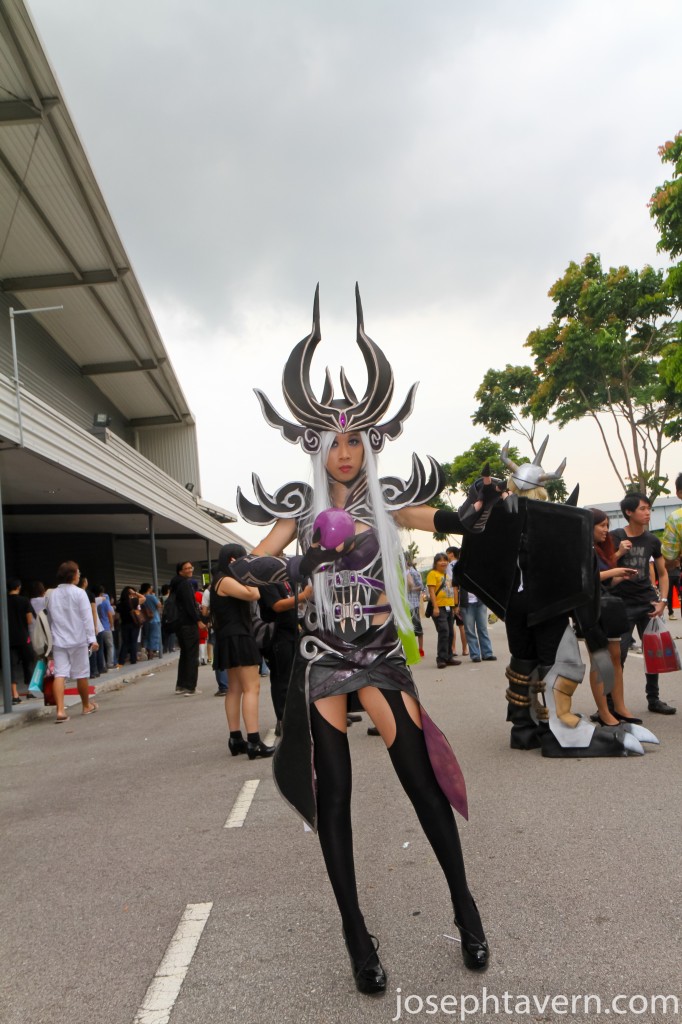 Now, I need help with this one. Which character is this?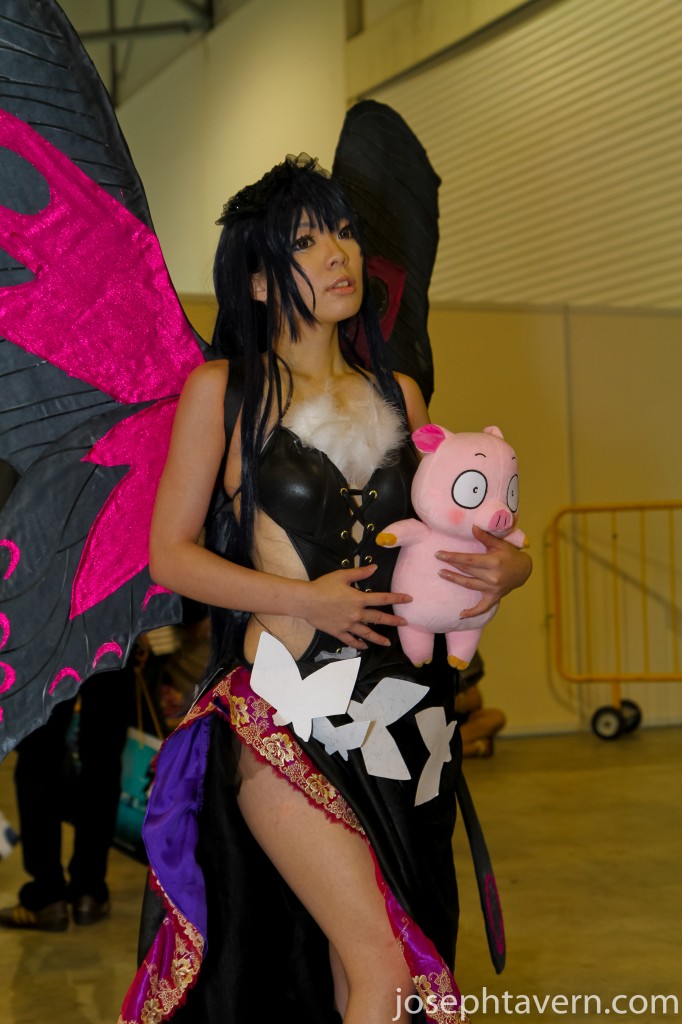 I caught Valerie Aya as KuroyukiHime she rush off to the back stage…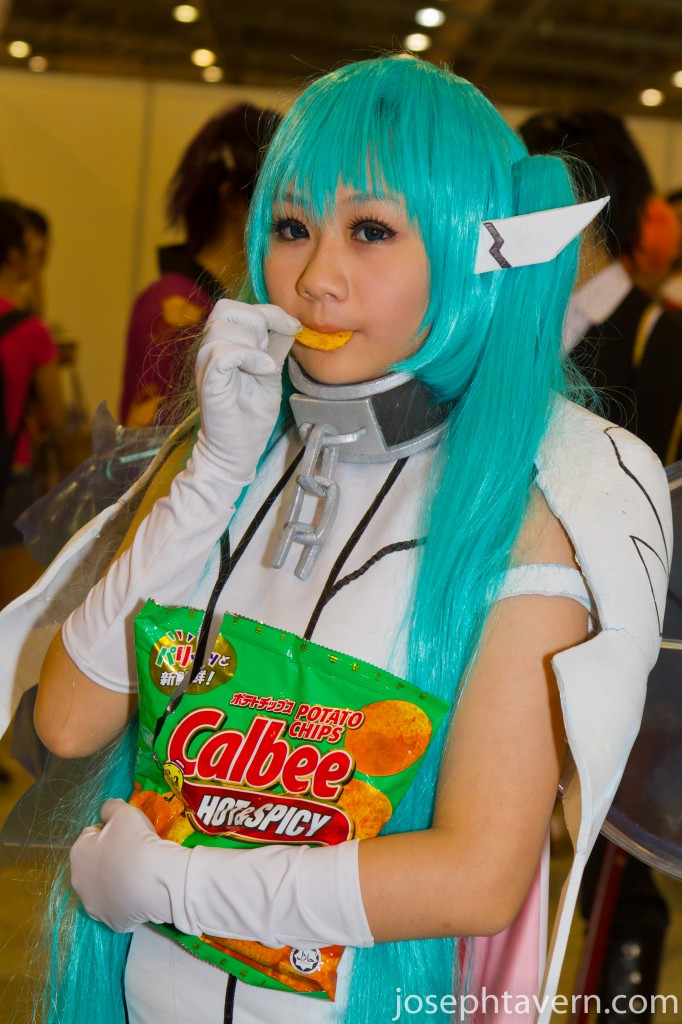 Nymph eating her potato chips…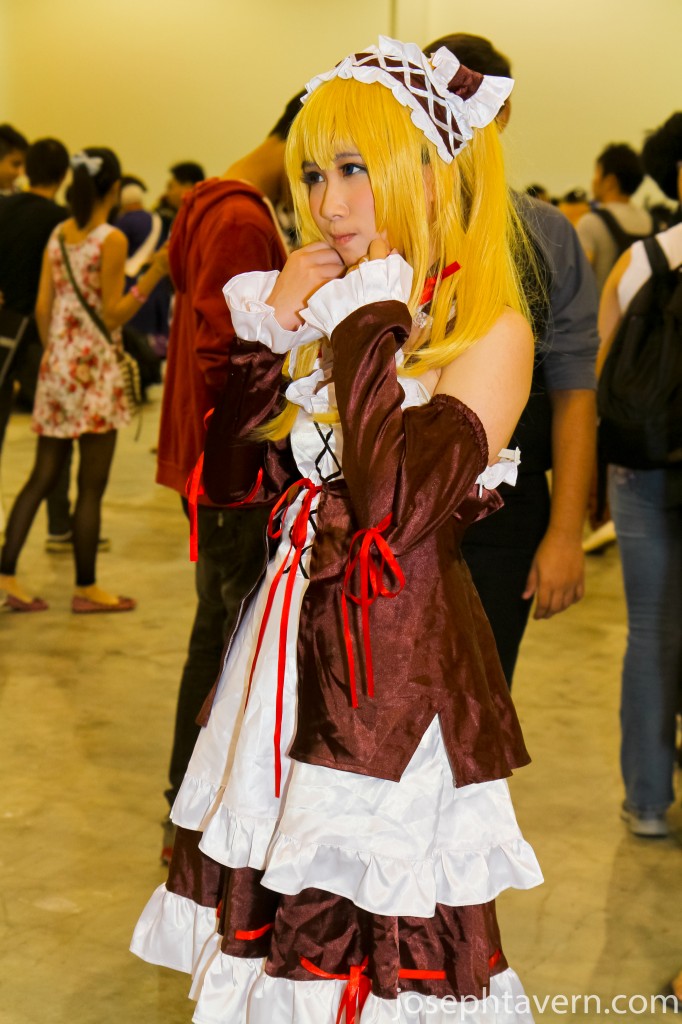 Kobato Hasegawa…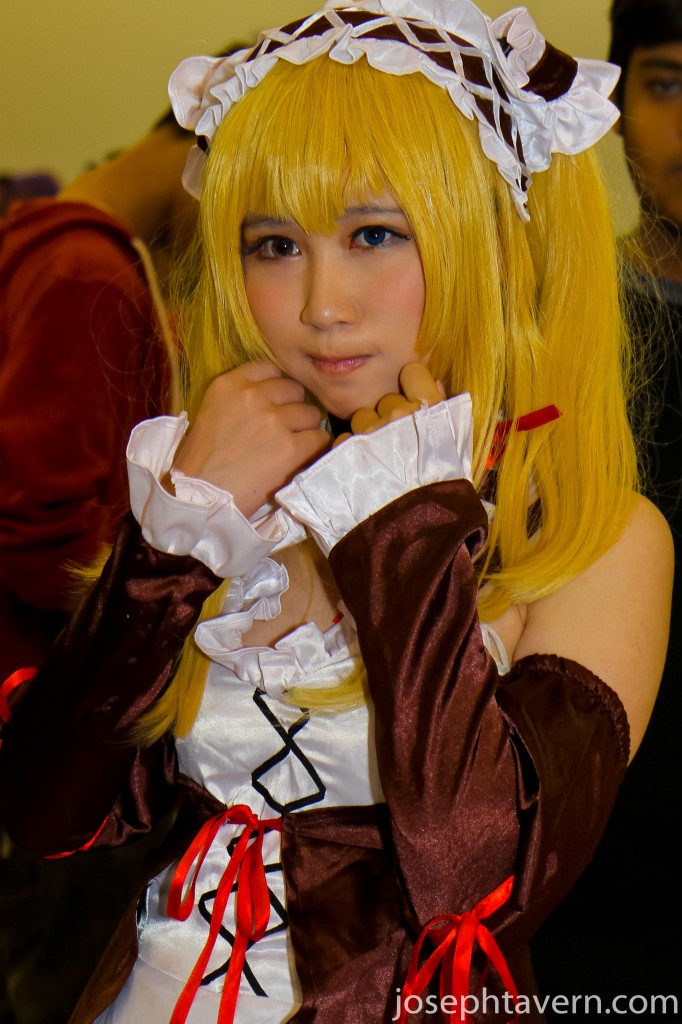 Here, you can see, Kobato's eyes being replicated with coloured contacts…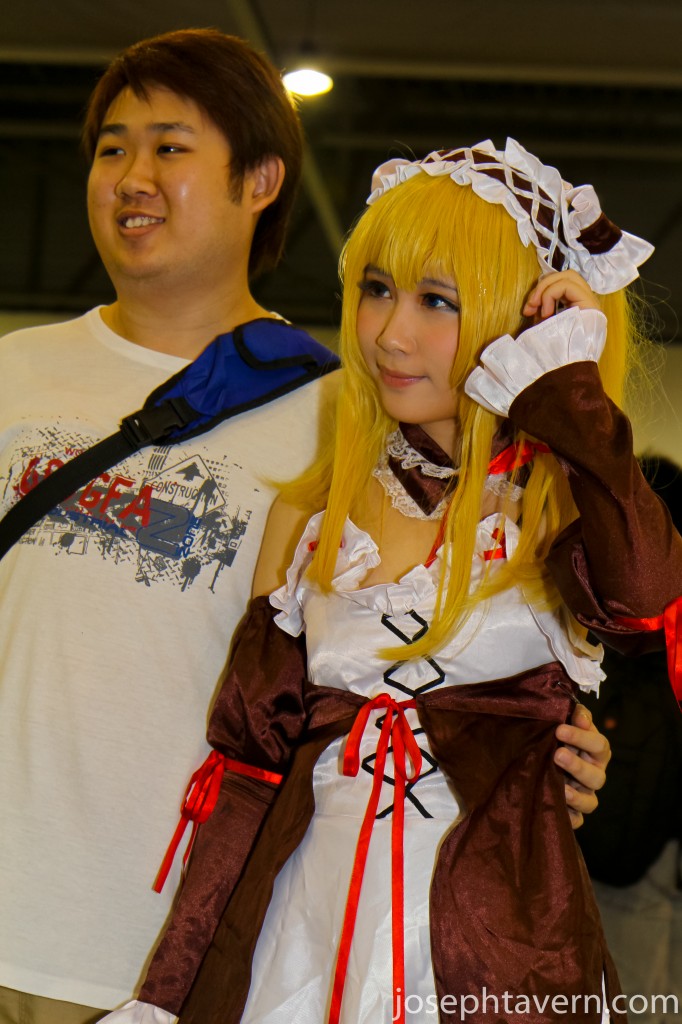 Over here, Kobato taking photo with someone…. hey!! Hey!!! Bro!!! The hand!!!! Watch where you are putting the hand!!!!!!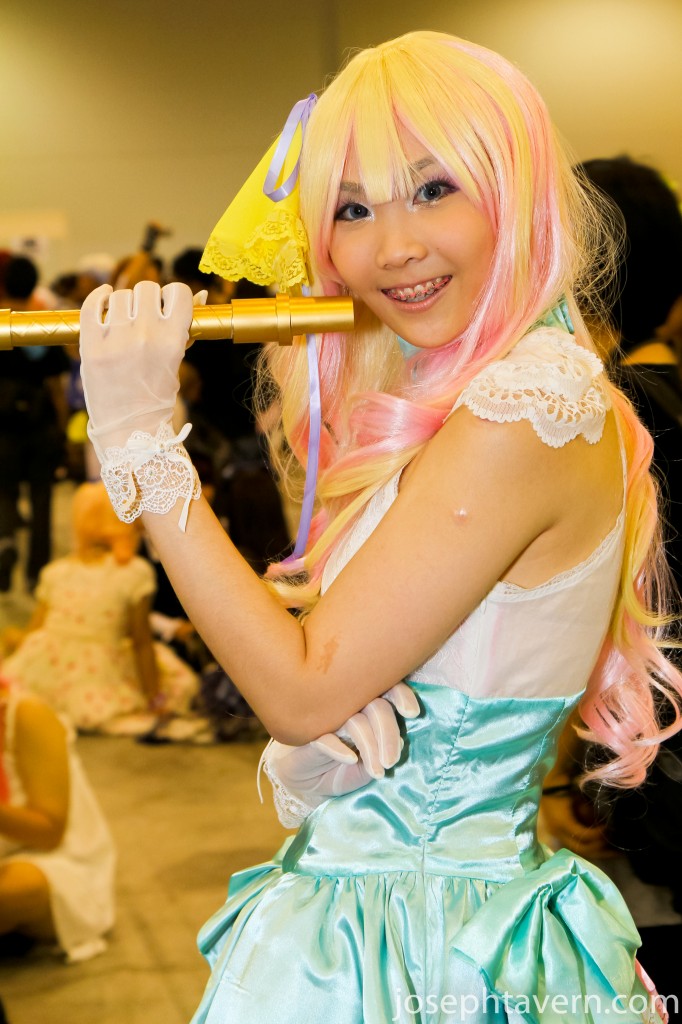 Sheryl Nome sharing her time with us…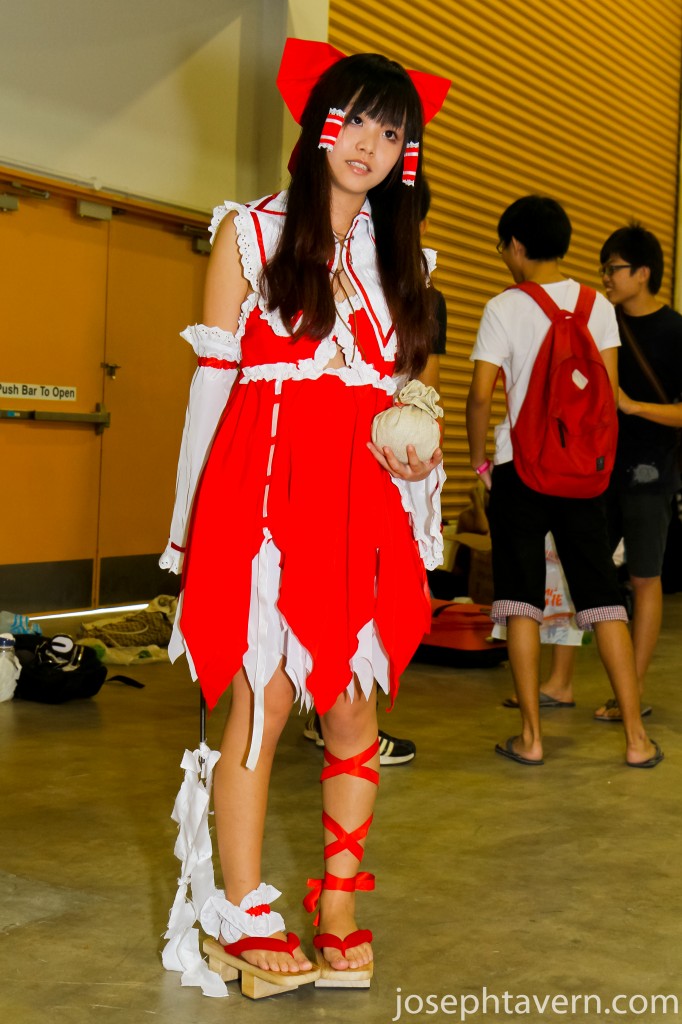 Reimu Hakurei left her shrine to attend AFA for a while…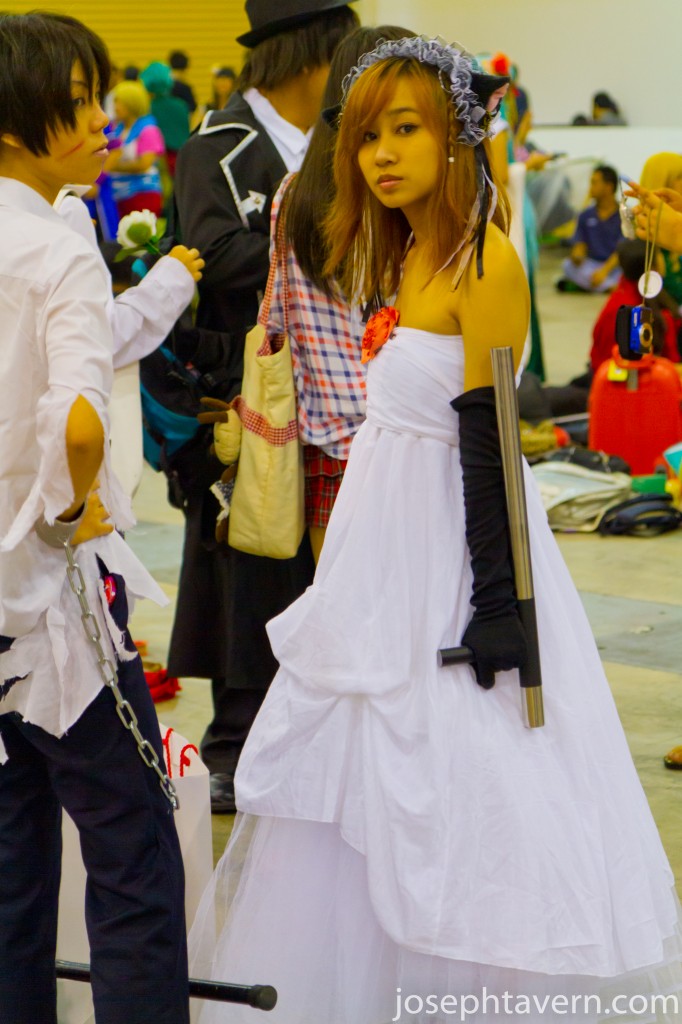 While I was trying to capture this cute cosplayer chatting with her friend, she spotted me within 10 seconds and went into full cosplaying mode…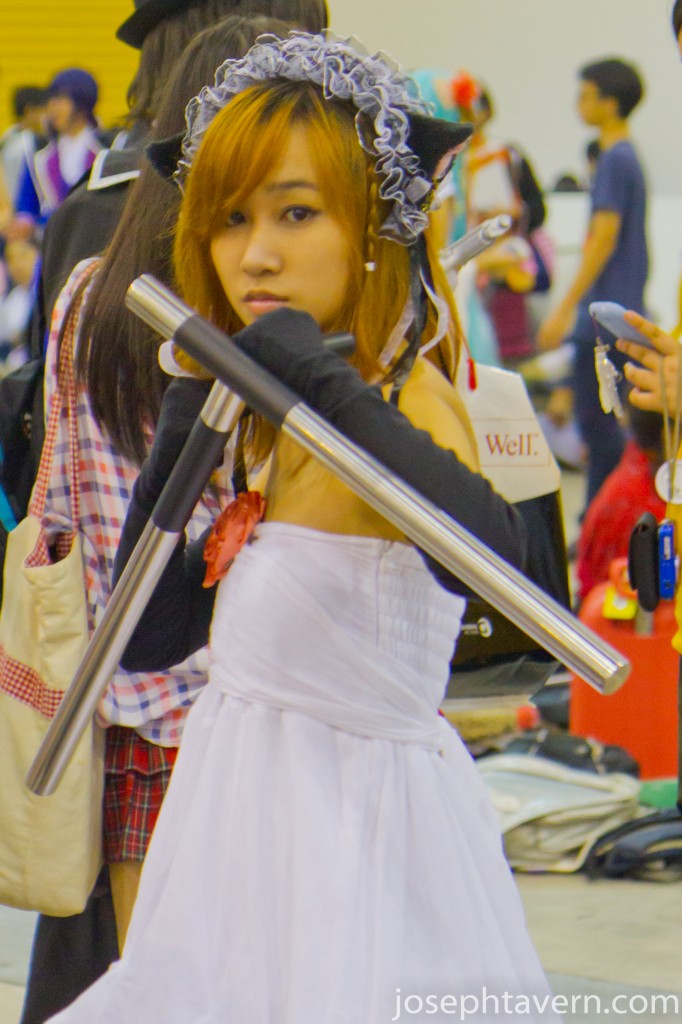 So, I thought, why not, and snapped a few more pictures. By the way, what character was she cosplaying again? So sorry that my database isn't that big as many of the comrades out there.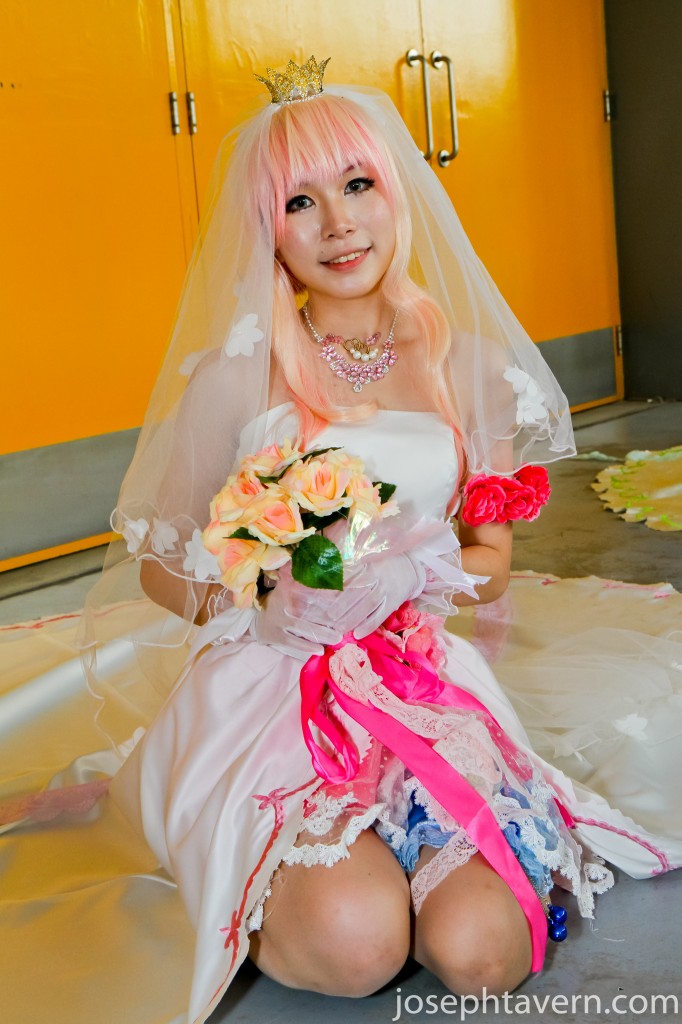 Sheryl Nome in wedding dress…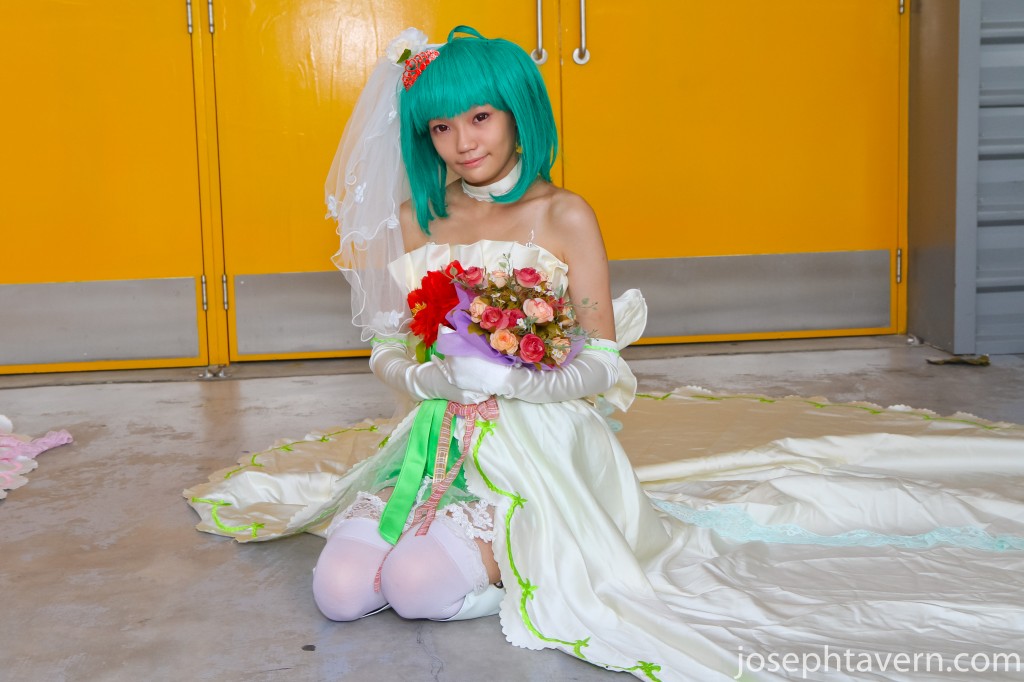 with Ranka Lee, also in Wedding dress.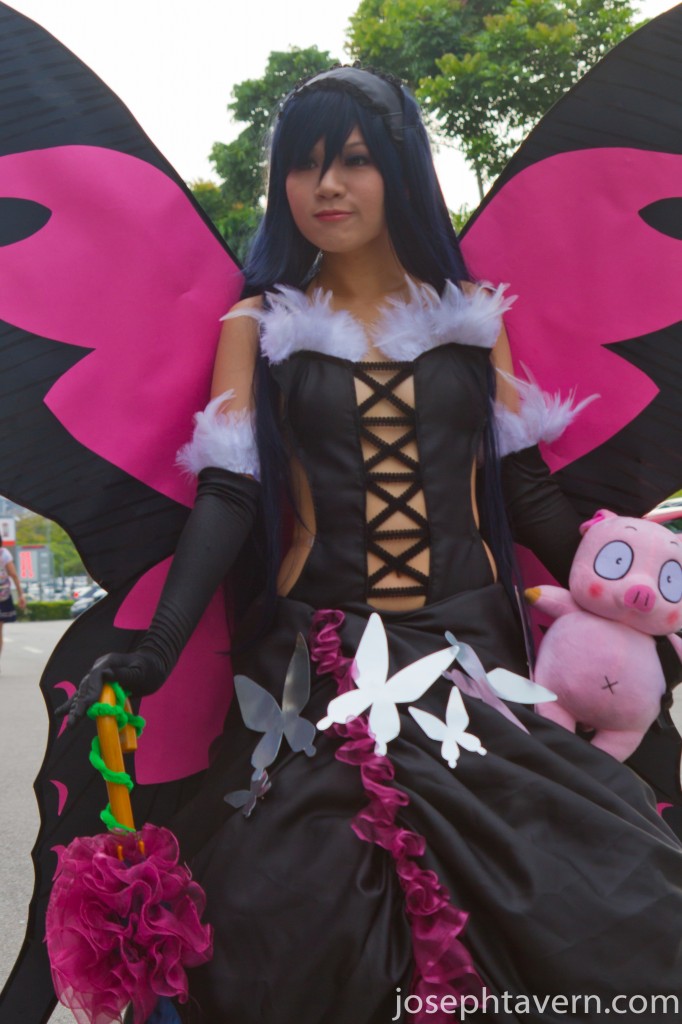 Here is where I caught KuroyukiHime again.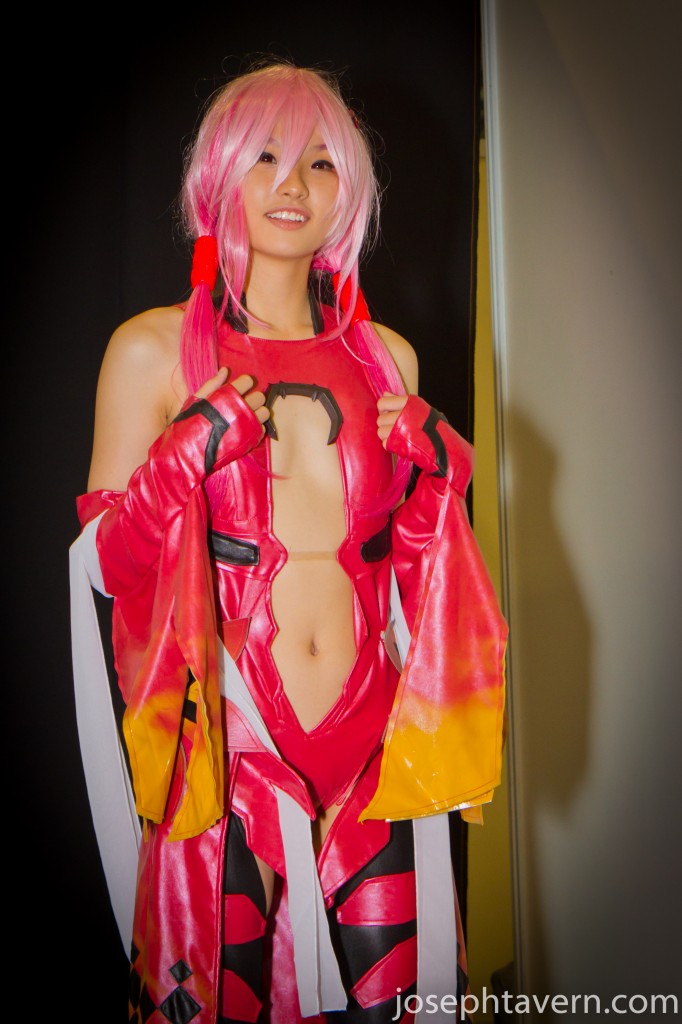 Inori Yuzuriha from Guilty Crown was smiling splendidly.

Chris from Koreha Zombie Desuka, or also known as, "Is this a Zombie", posed for me for this shot.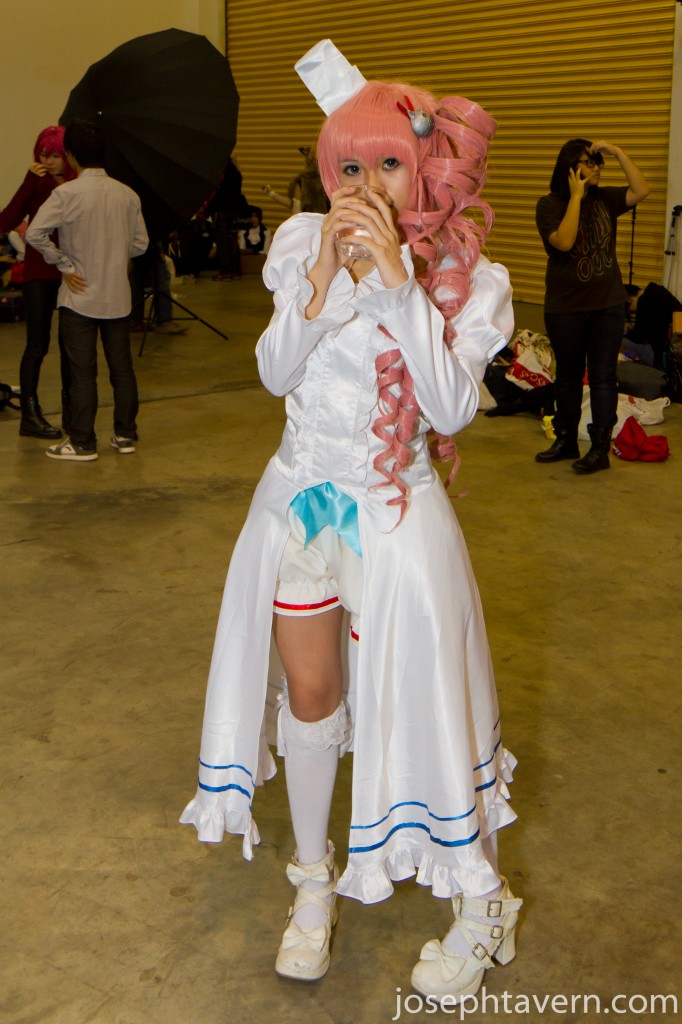 I have to apologize to her because, while she was chatting with another comrade, I was disturbing them by taking random shots of them. Sorry about that.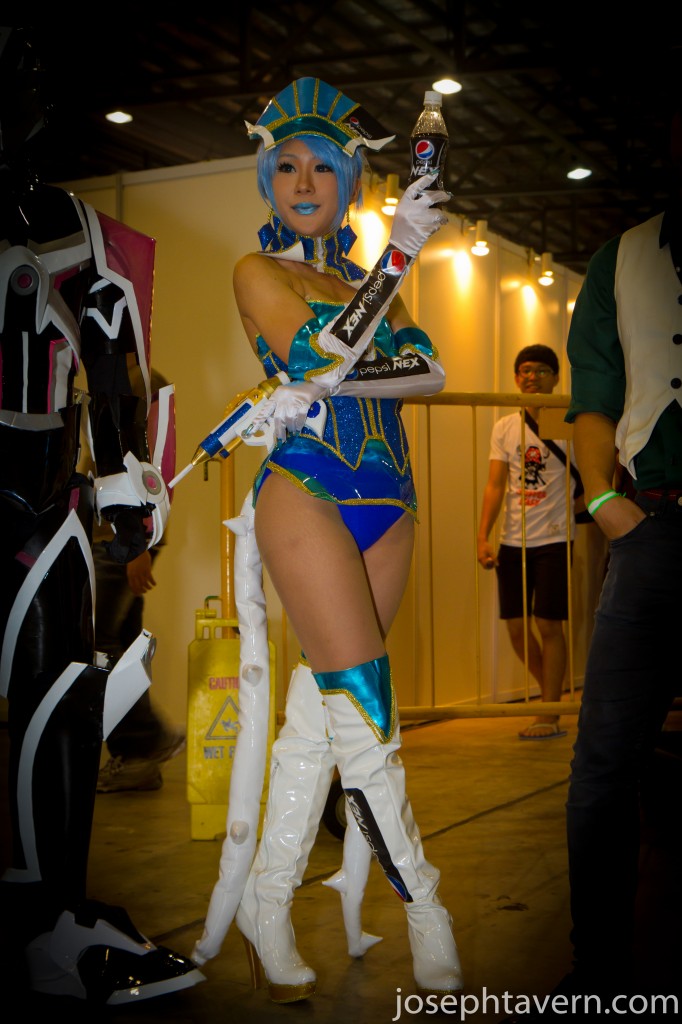 Blue Rose from Tiger and Bunny…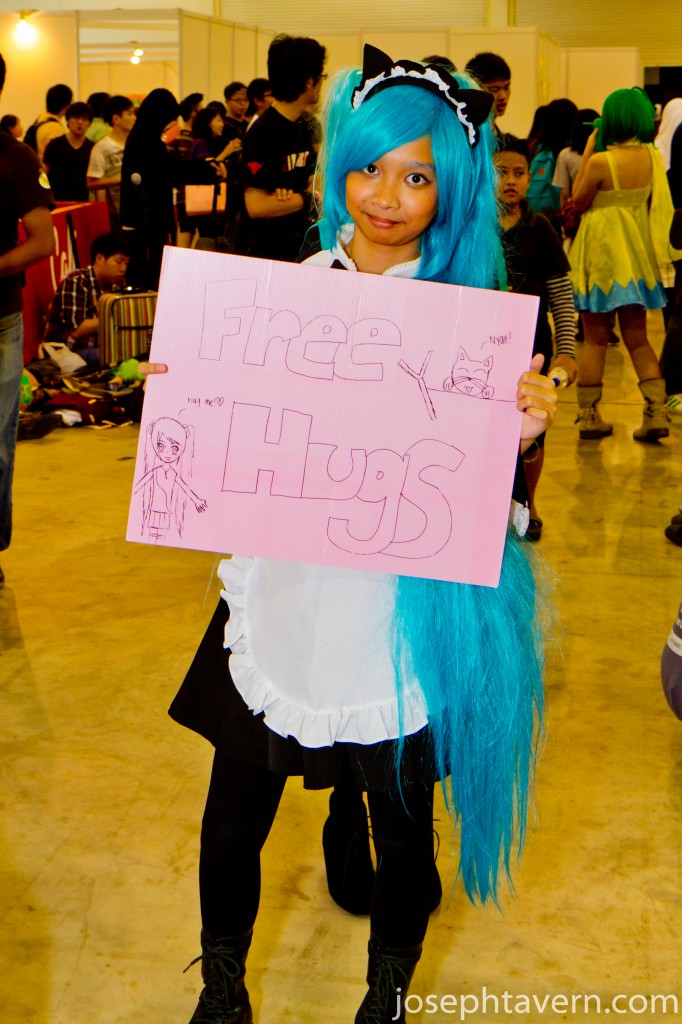 Free hugs for you???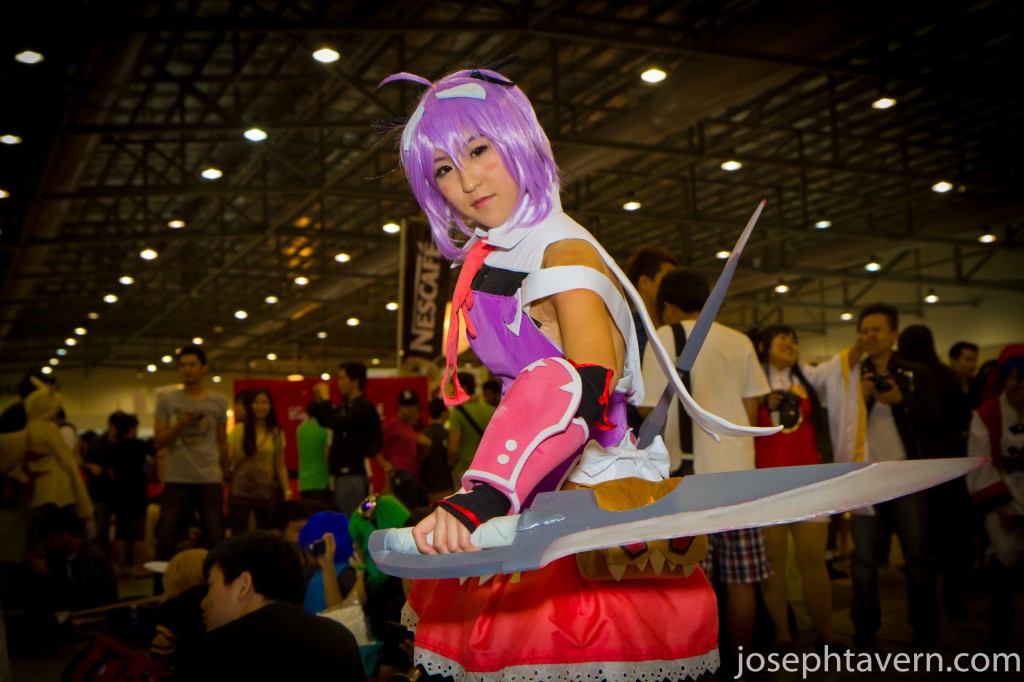 Great pose!!!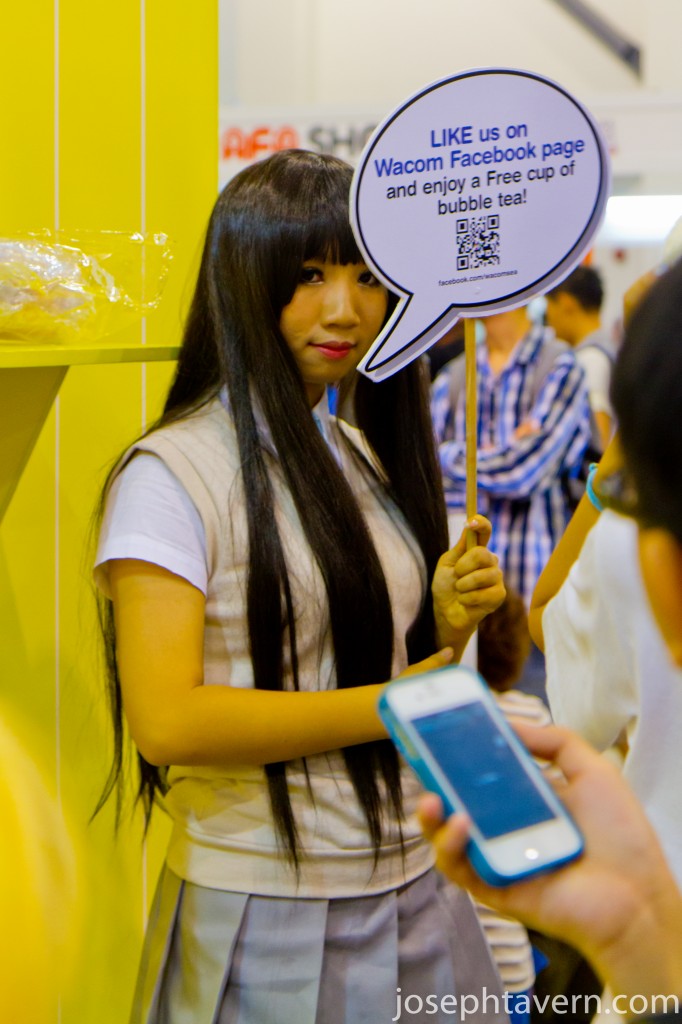 Free bubble tea, anyone?

Wendy and Virgo from Fairy Tail.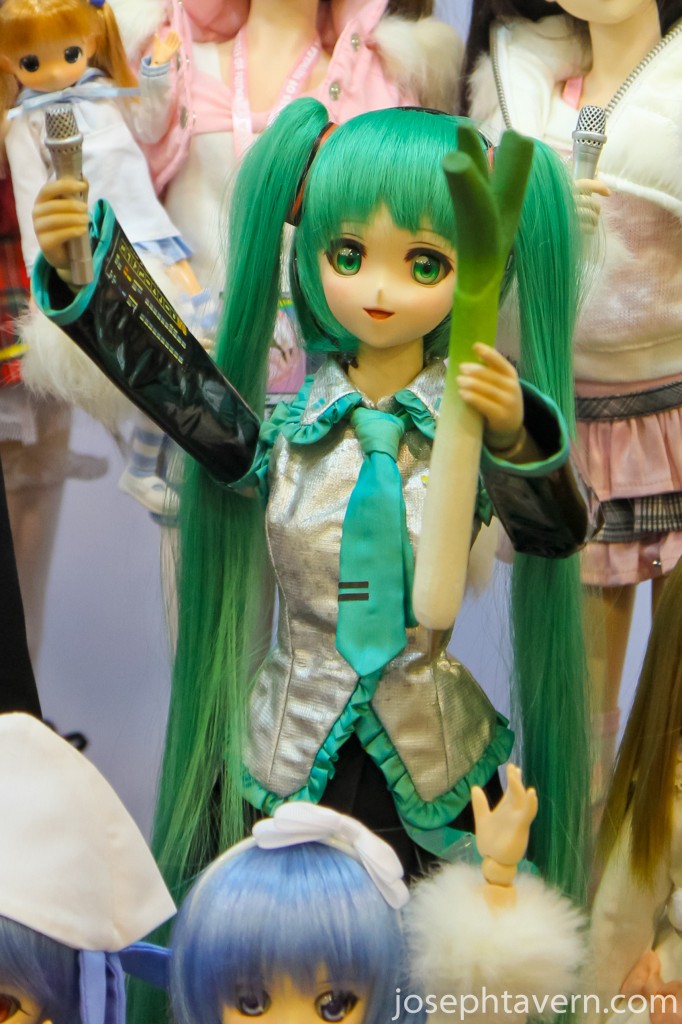 Miku says, "Take me home!!!"
Last, but not least, IRONMAN!!!!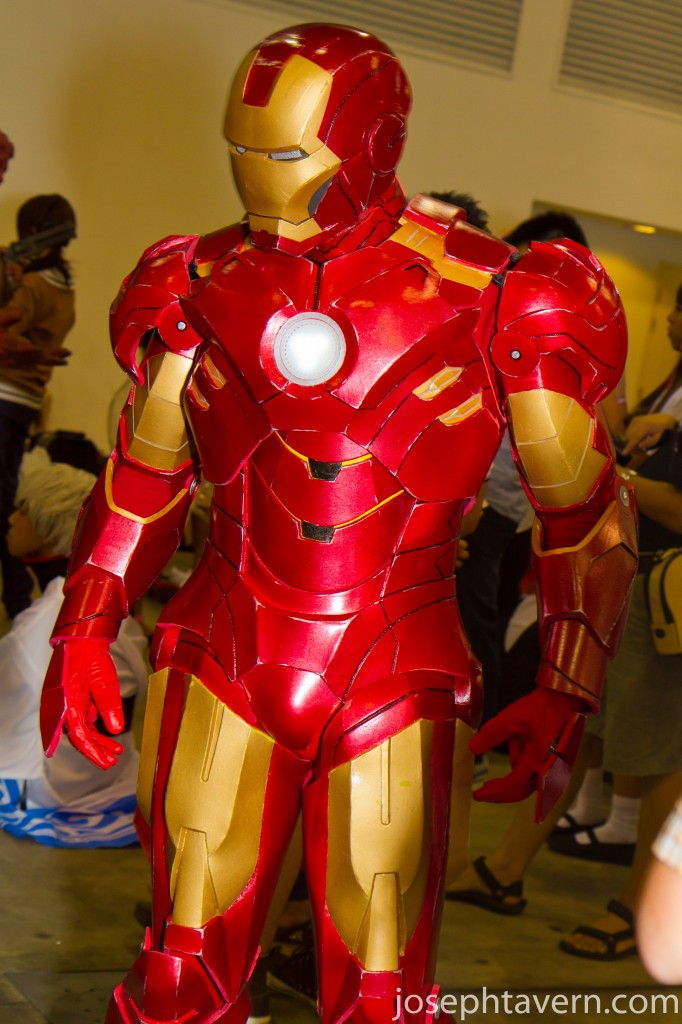 Generally, this AFA is …. well, less tiring for me, as my friends were with me. It was a new experience for me as I usually go to events alone. And because of that, I might go around and shoot people cosplaying for as long as 8 hours a day, with breaks in between.
During this AFA, I get to meet amazing people like…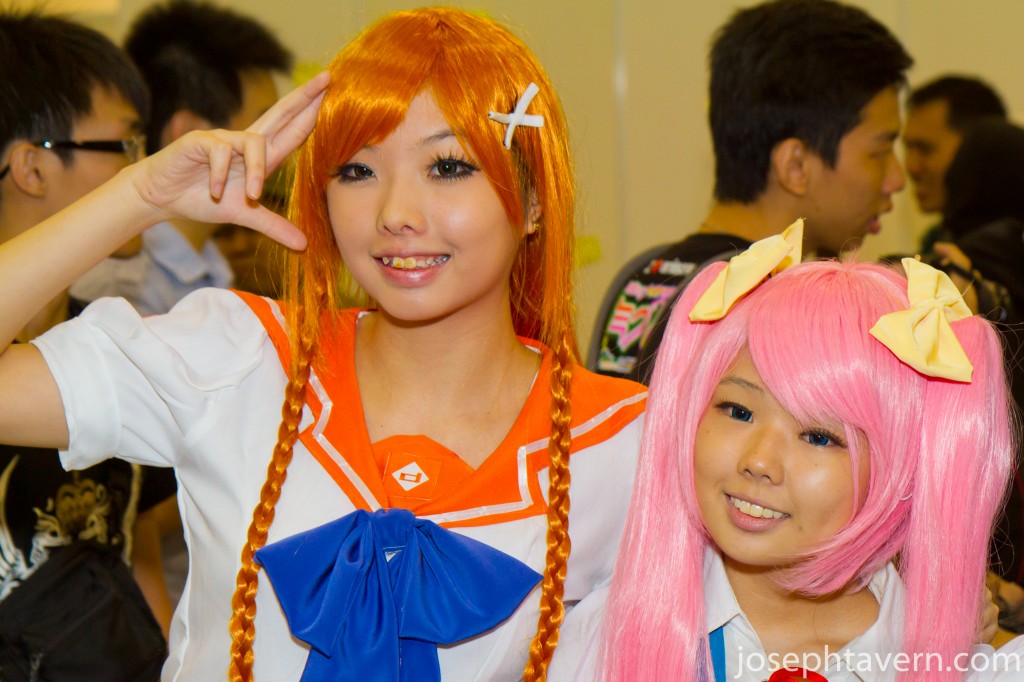 Serene and Yivon…
I met up with friends from Kurocha…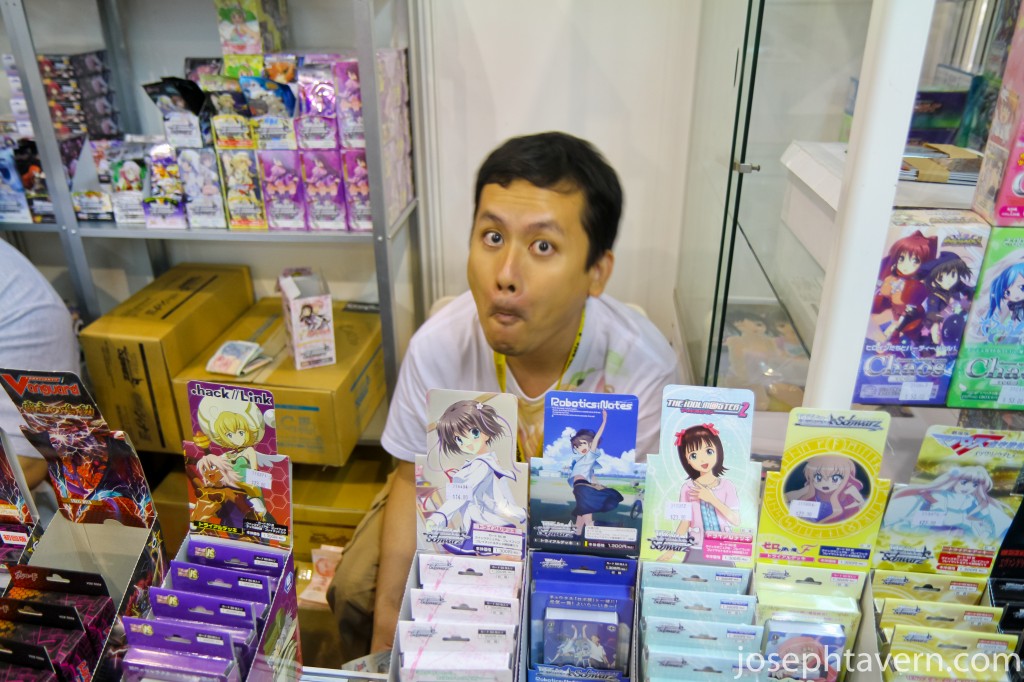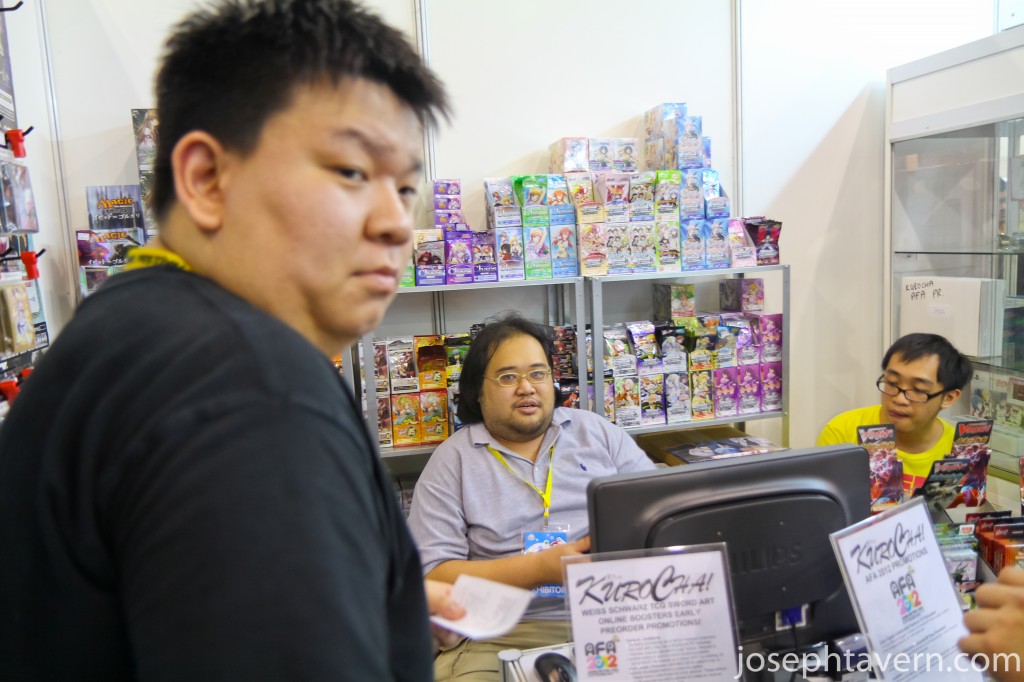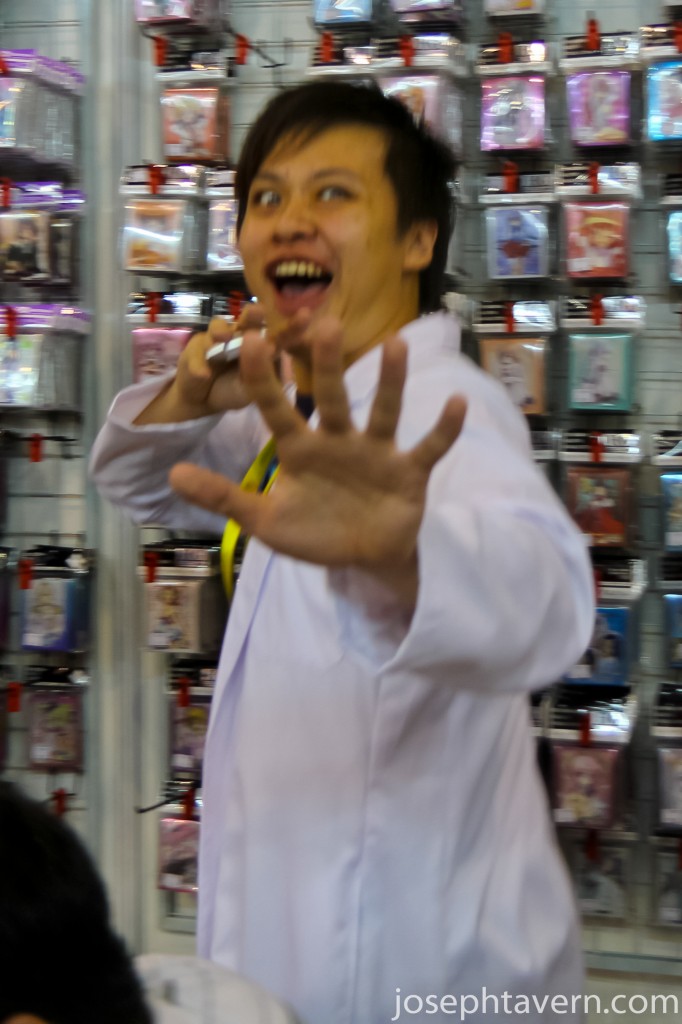 And scared the hell out of Joey. Haha.
For more photos, feel free to visit my Flickr account at here and here.