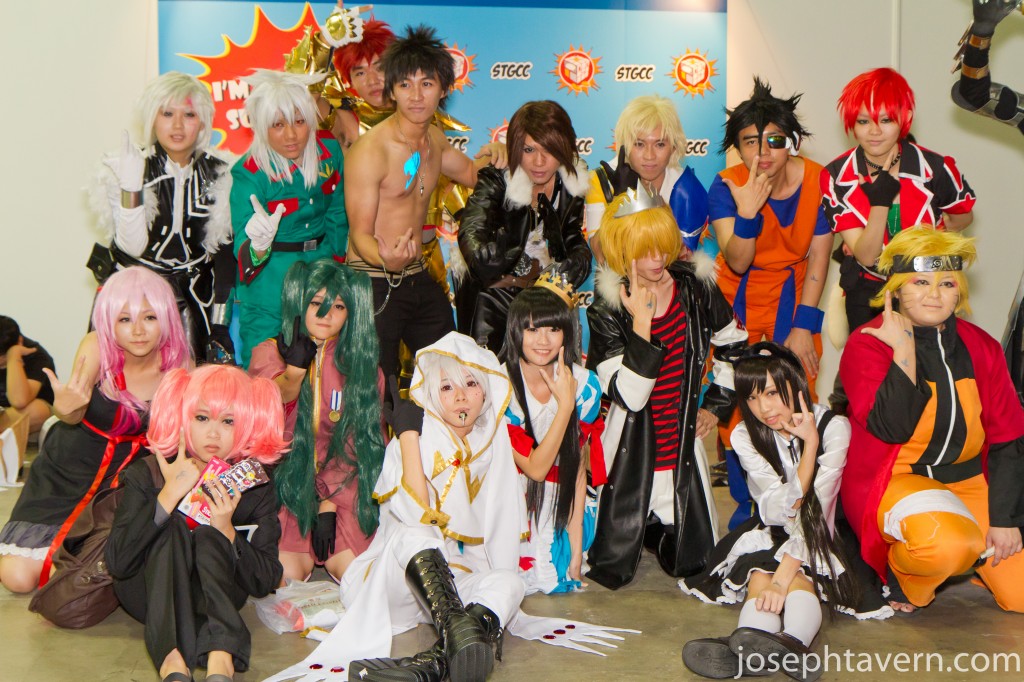 The 2nd day of the STGCC, or the Singapore Toy, Game and Comic Convention was on the 2nd September 2012, a Sunday. Armed with my trusted 7d, and a new diffusior system, I went to convention Hall, hunting for Cosplayers who have no issue about posing for me.

Although for some strange reasone, I had skipped day 1 of the event, and missed Snow Miku (Miyu-chan) day 2 was not without its rewards…

Lilianan from Queen's Blade…

Liliana with BonJapan…
Oooooooo. I simply like that smile.

Inori from guilty crown…

Knights in Shiny Armor….

Saber Bride…

Rin and Archer makes their appearance. I saw Archer during the Internatonal Cosplay Day as well.

Pedo Bear came to the convention hall too. It stalked the little girls during the International Cosplay Day as well…

Members of the AKB0048 paid a visit as well…

A certain Pink Neko Maid was there as well…

And she decided to give a little service as well…

However, the Neko Maid is children friendly as well, or should I say, friendly with children??

Lacus with Halo…

Lacus decides to give a little service as well, although we all know that her dress is a swimsuit by now…

A few Miku, Rin and Len popped up along the way…

Sakuya giving her "I will kill you" look…

And of course. Sakuya sometimes gets bullied by the others…

A pair of Chobits…

Squall….

Iny x Boku….

Friend, which part of Sonico Kenco were you staring at???

Comes with a nice bag…

Azunya-nya~~

Arisa…

Stocking…

A certain cute Elysia de Rux Ima…

A certain girl with pink hair…

A certain killer bunny…

Was Optimus Prime and Bumble Bee so sweet looking??

Cosplayers having fun…

Nyaroko-san: "Hahhh!!!!!!"

"Look into my eyes…"

ARRRGGGGGHHHHHHHHHHHHHH!!!!!!!!!!!!!!!!!!!

Pain….

Wukong and Volibear from League of Legends…

Ironman diecast…

The more Human version…

Posing for a shot…

A soldier trying to revive his comrade…

Patrolling…

Hello, Halo??

Batman!!! Where were you?!?!?!?!?

Captain America???

Vader: Come with me to the dark side…

Vader: Actually, I will just stand here and let you photograph me.

Here doggy….

Nya~~

Ending group shot…
Below are some miscellaneous shots I took from the event…

Inori being grabbed playfully by her friend while posing for me.

I should had switched on the video mode on my camera when I saw the blonde creeping up on Inori. Haha.

Inori asking Miss Bunny to take a photograph…

Luka posing for a shot…

Friends talking…

This was on sale. Yes, it is THAT BIG.

I caught Aria staring at the stage, alone. I did not see her cosplay today. Maybe she is just taking a break.

A person infested with a Headcrab was spotted…

I spotted a member of the SWAT team drawing on the board…

There was a few group of people going around interviewing people…

The same group….

With different cosplayers….
Any idea who were they? I want to credit them.

This is a certain fairly expensive chicken rice which I had for lunch. To be fair, the soup was really, really nice.

Here is the certain quite expensive chicken noodle I had for lunch, also from the same store. The soup is the same, however, the noodle tasted great!!!
I am looking forward to AFA 2012 now. See you guys there!!!!