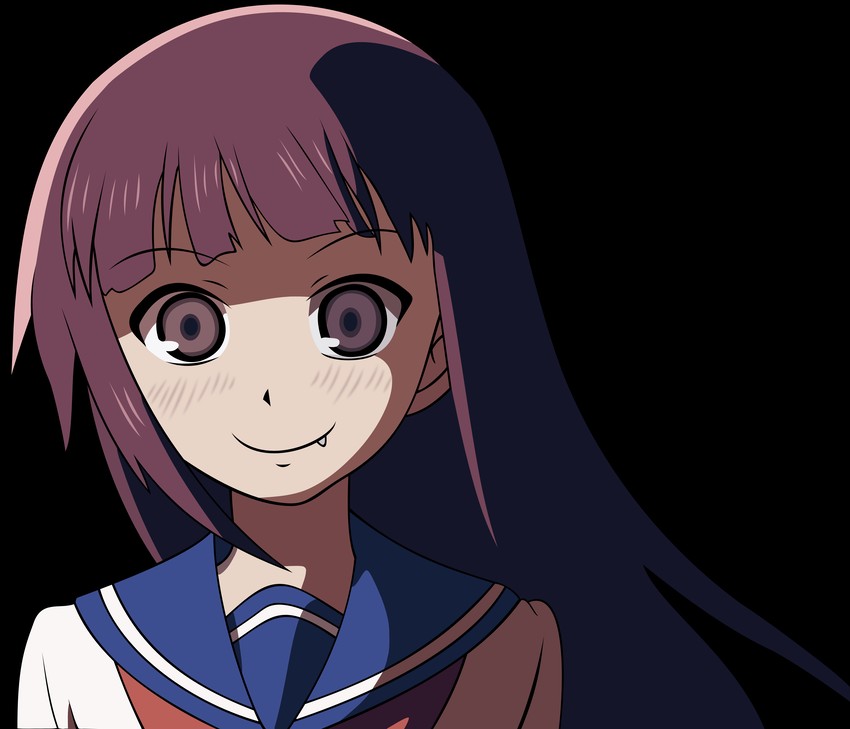 This episode started with a girl chasing after the 3 protagonist….
No. Not the girl above, but rather, the girl below…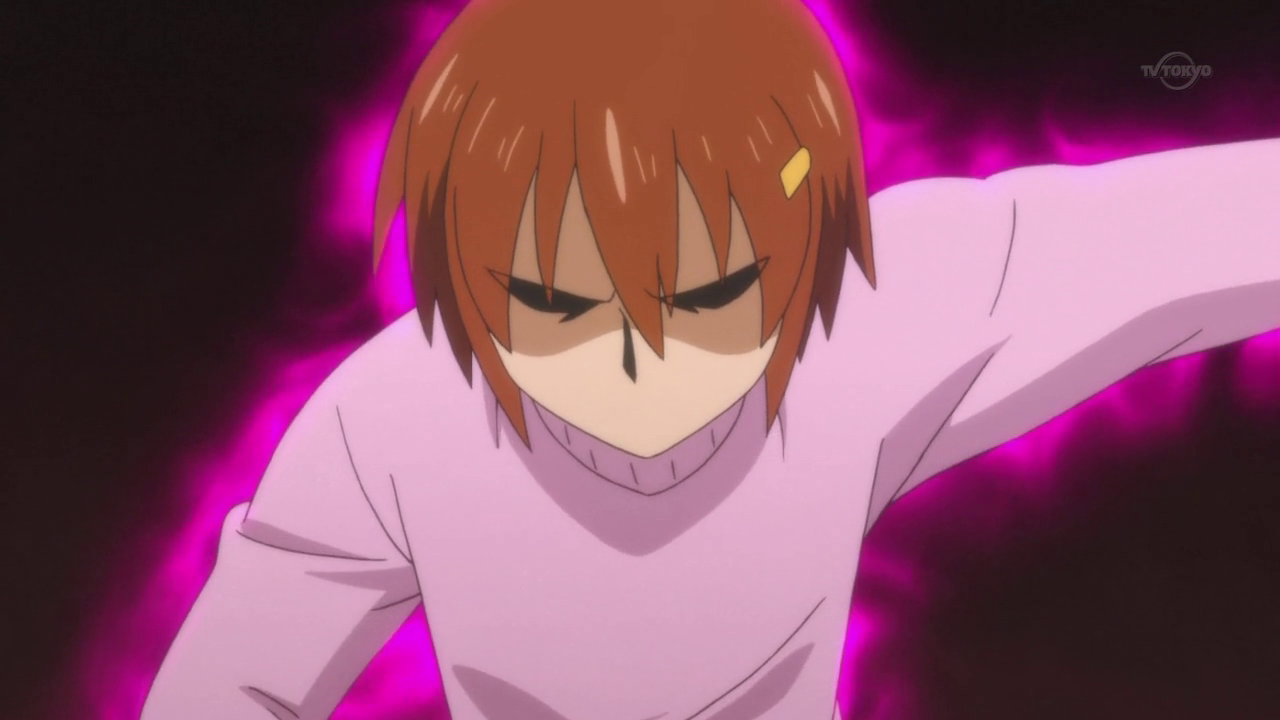 So, what did the 3 did? Well, apparently, Hidenori had to comment on the wrong person at the wrong time….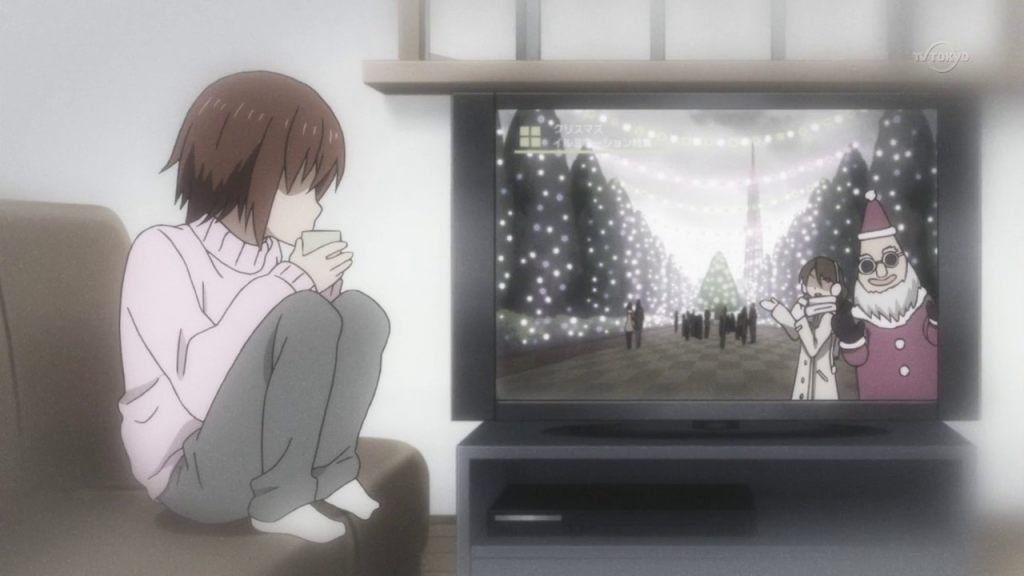 There she was, quietly and peacefully watching the television on a Christmas night.
But Hidenori had to open his big mouth…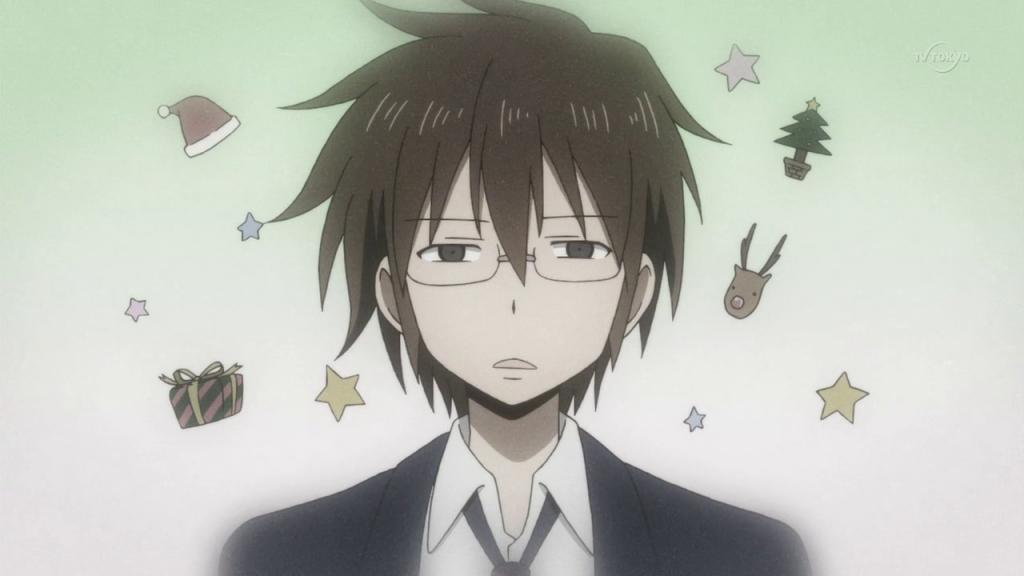 "So, you DO do not have a boyfriend…"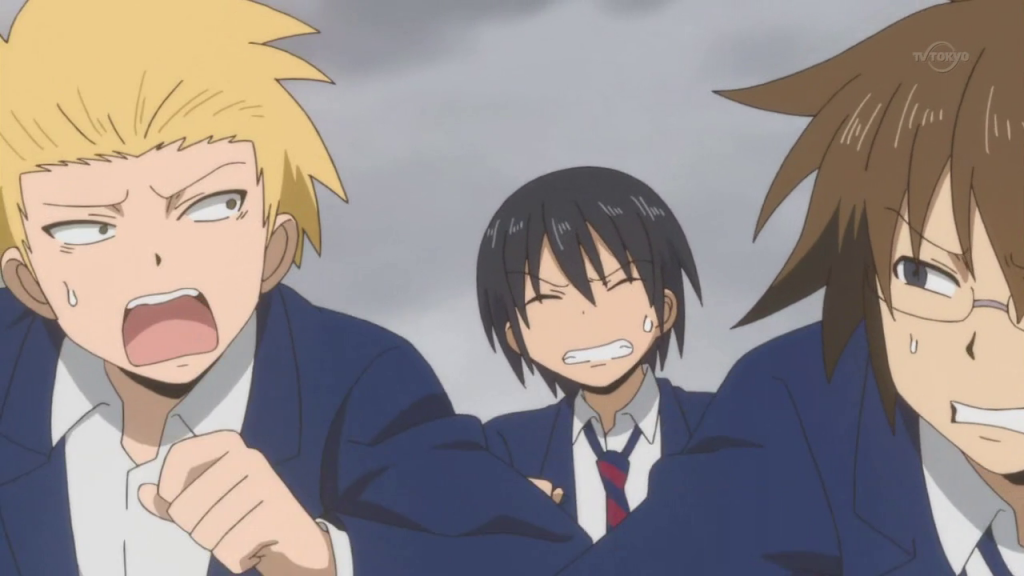 Why are they running? It turned out that Yoshitake's elder sister is the leader of a girl's gang (mini-gang?) who bullied their dear classmate…

Which is the same as saying, "you are so dead" to the 3 protagonist.
After getting their butts kicked…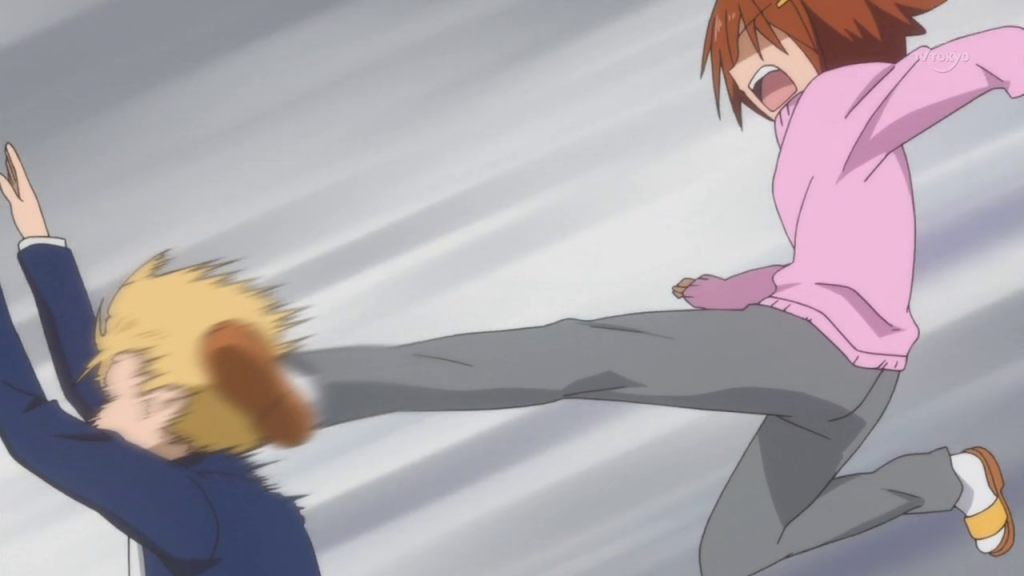 Thrown….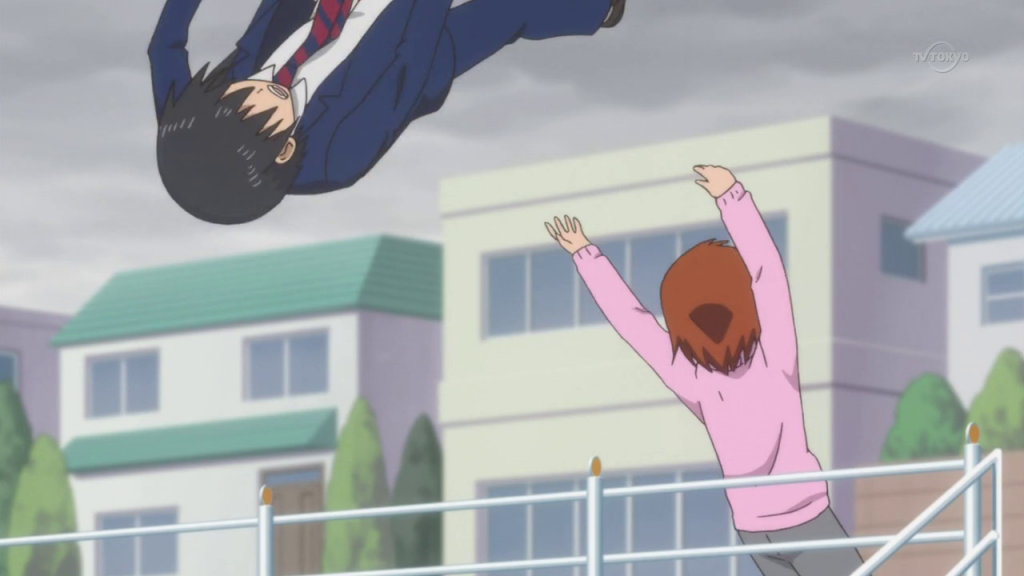 Hidenori managed to run away…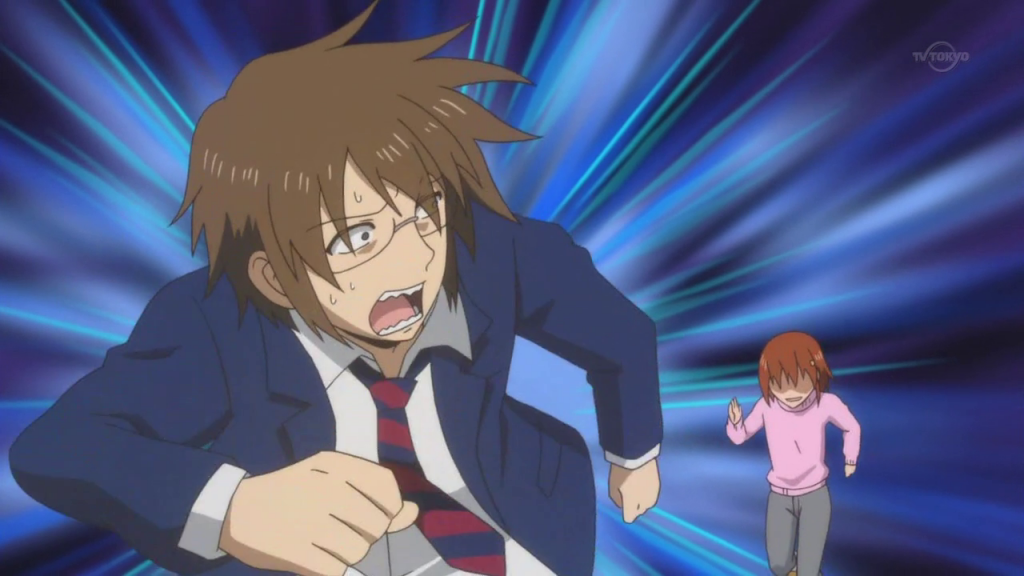 for a short while…, until he had to open his big mouth again…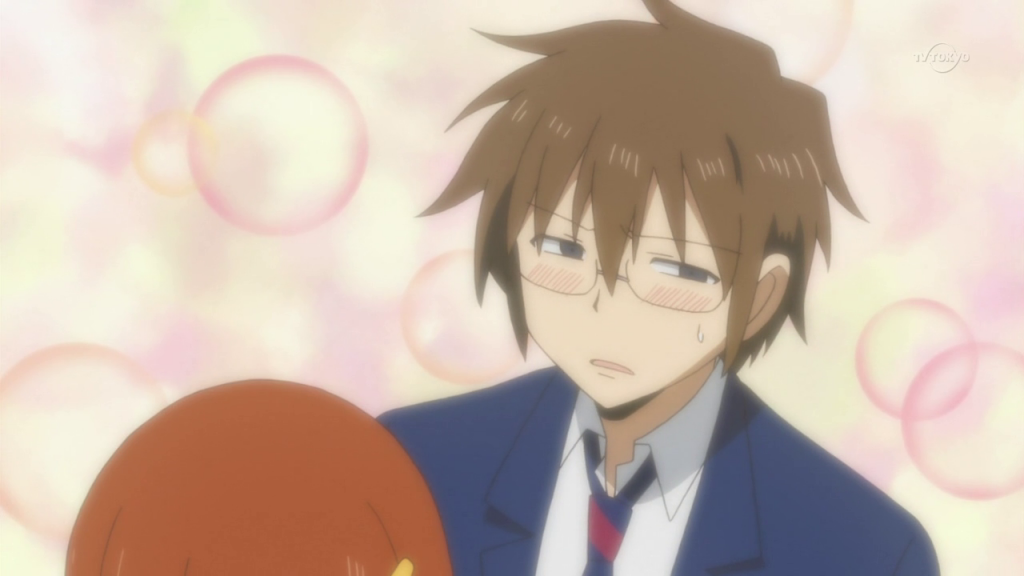 "I will be your dearest…"
which made the Oneesan blush a bit…


And, just when I thought the story might end with something more romantic rather than the Onee-cha punching Hidenori to oblivion, it did happened…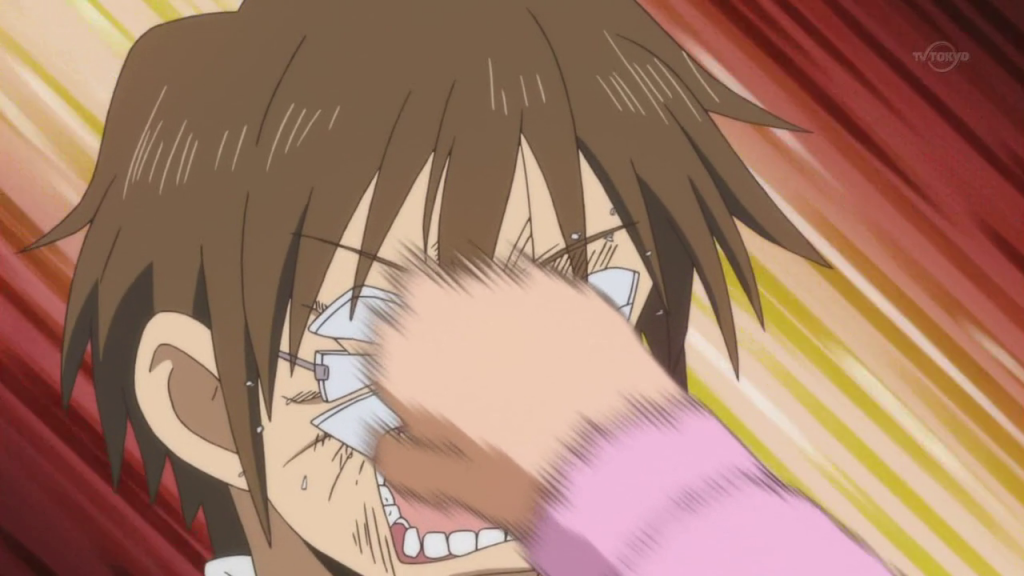 Well, you cannot blame her for being this angry when some kids came along and point it out to her that she was always alone during Christmas (i.e. she doesn't have a boyfriend, like, all these years). But having seen how she dealt with the 3 boys, you couldn't help but being glad that, you are not her boyfriend.
For some of you out there, you might be screaming, "Hey! That is not the first scene of episode 6!!!!".
Well, it is not. For those who really must take a look at the almost-motionless and uninteresting first scene which happened before the opening song, here it is…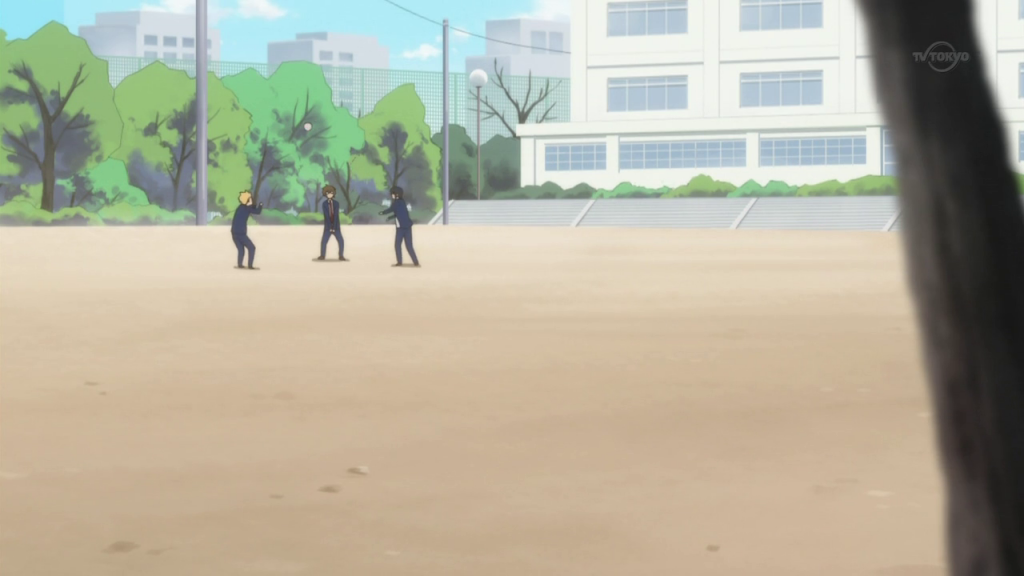 It consisted of a joke about "Magical High School Boys", and a reference to Harry Porter.
Well, it is a gag, and I find it, "Duh" and moved on. The scene does not make too big an impact. I almost forgotten about it totally, until I typed the words, "It consisted of…". Let us just move on with the more interesting parts, shall we?
The scene changes to a classroom, the boys' classroom to be exact….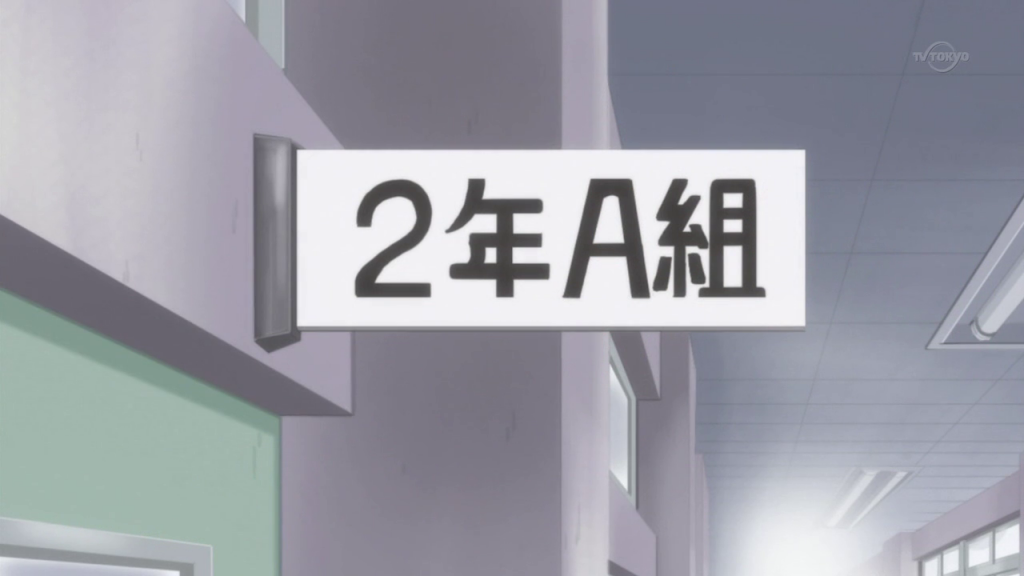 Everthing was peaceful. The boys are chatting about games, in particular, old-school games, like the NES…

Until the teacher decides to walk in…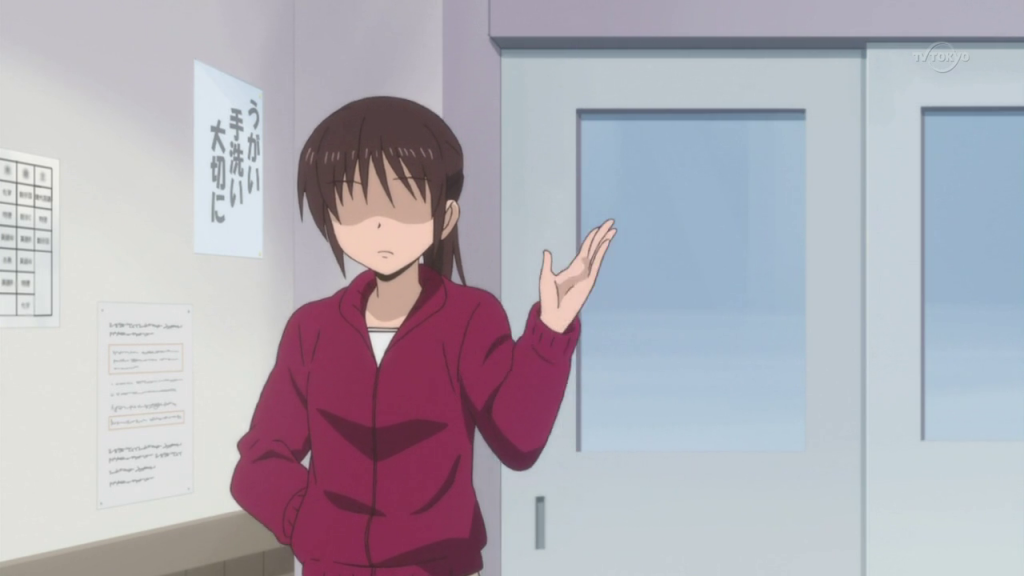 At this point of time, I was wondering, are they having a summer class? The reason is very obvious. The teacher had arrived, but the bulk of students had not appeared…

The teacher finally tells the class that she had forgotten…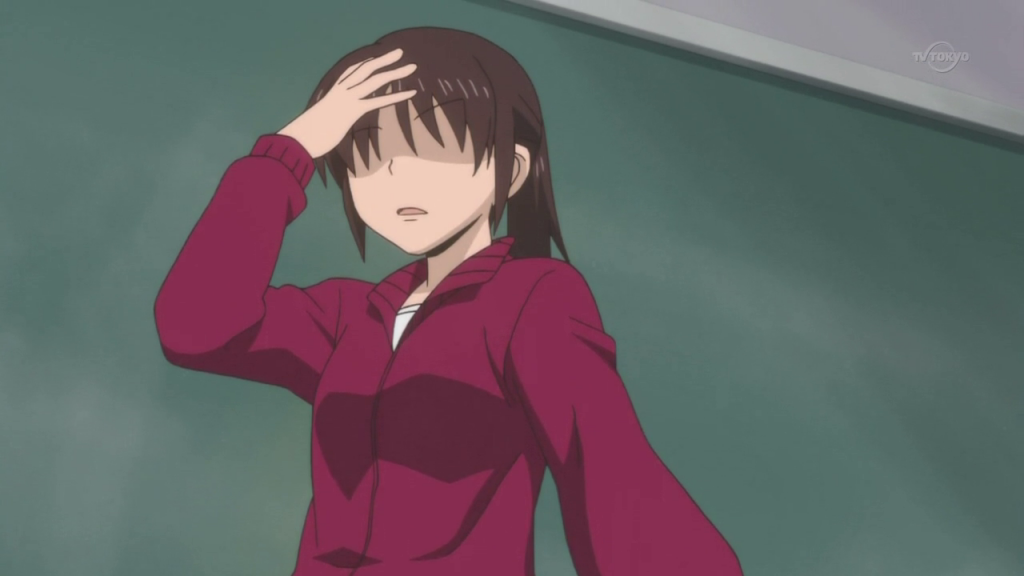 to tell their group that school doesn't starts today…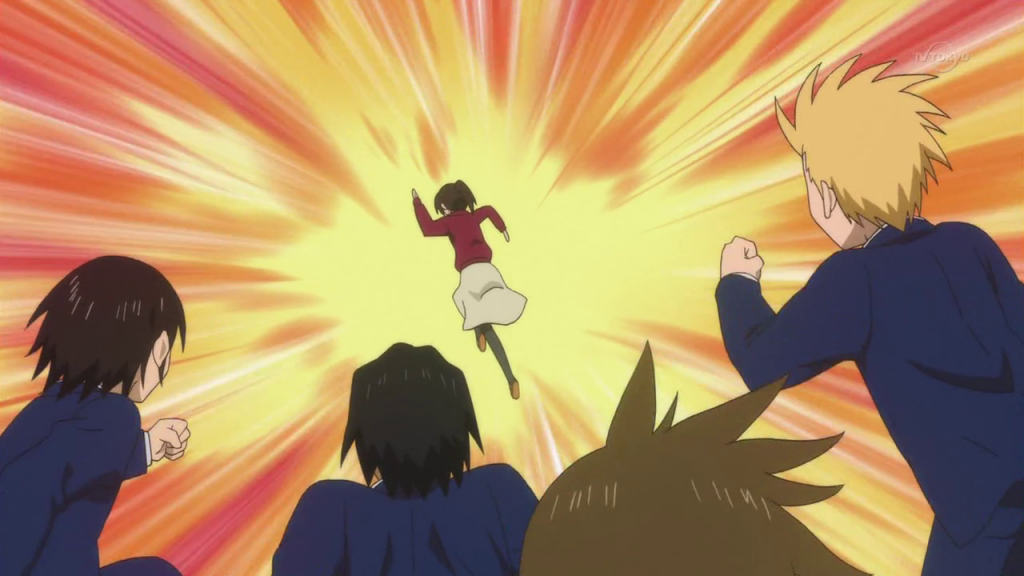 and runs off.
It is obvious that, the teacher is making a joke out of them. What a terrible joke to play by this sensei!!!! This teacher will be on STOMP immediately if she was in Singapore. For the bulk of us, if we missed a day of our holiday because of a bad joke, we would probably be remembering it for our life. Will you?
The next story, is about Tadakuni's imouto, smashing into the student's council's room, asking for the help of the elder "Onii chans"….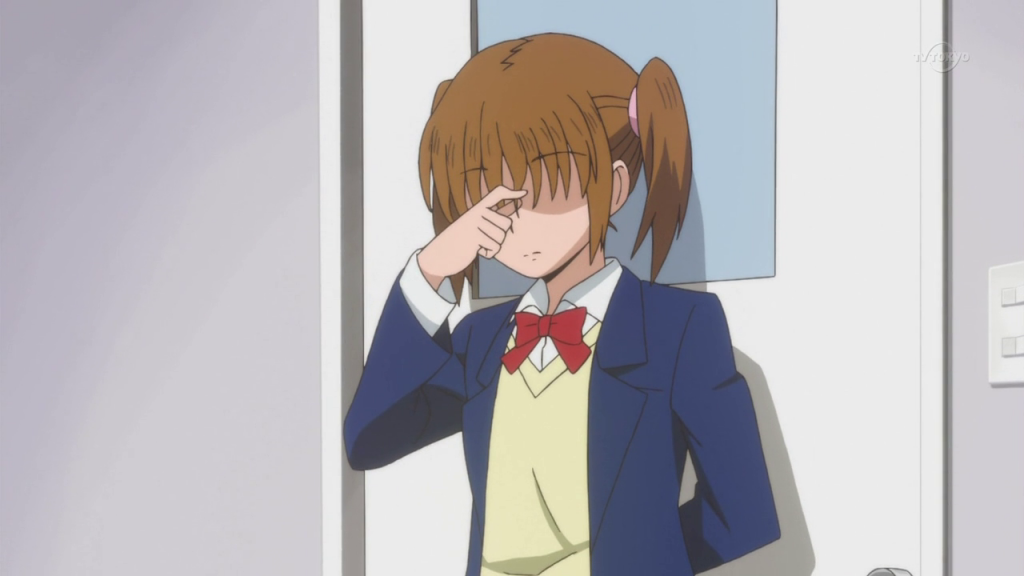 which they flatly rejected.
However, after a harmless meeting with the "guy who beats imouto up"…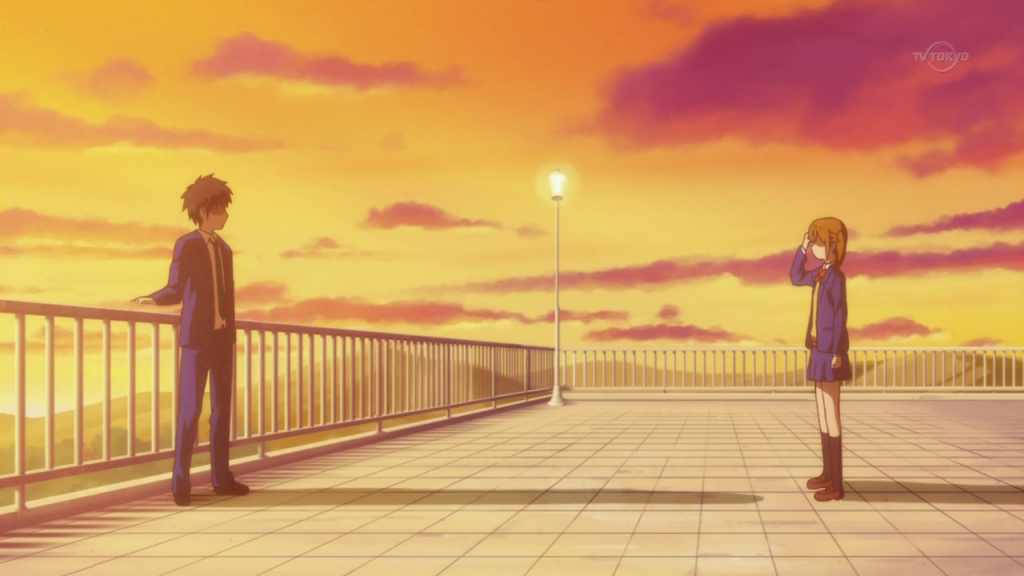 I realized that, the imouto likes to play with her hair…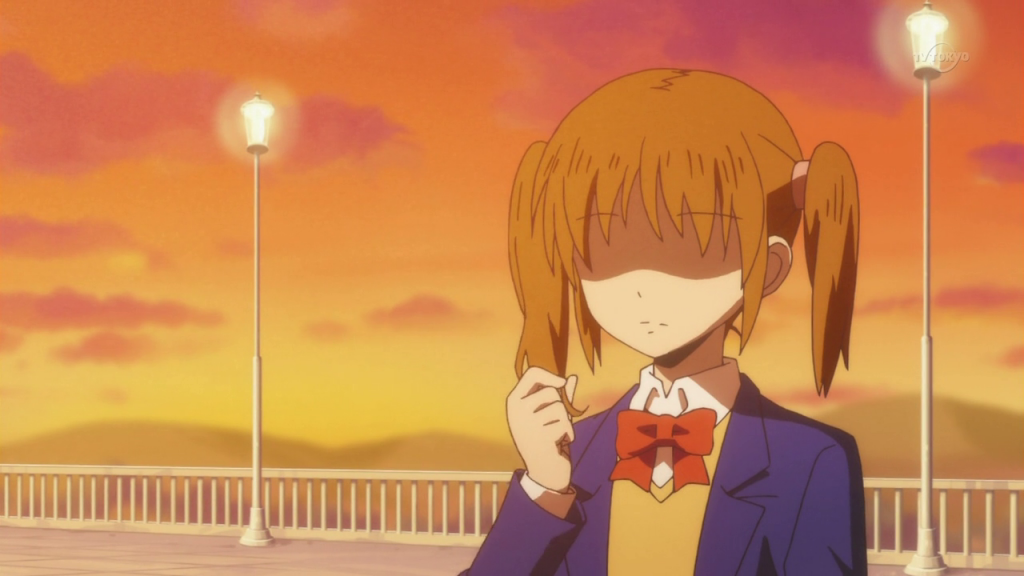 Trivial aside, the boys started to appear one by one…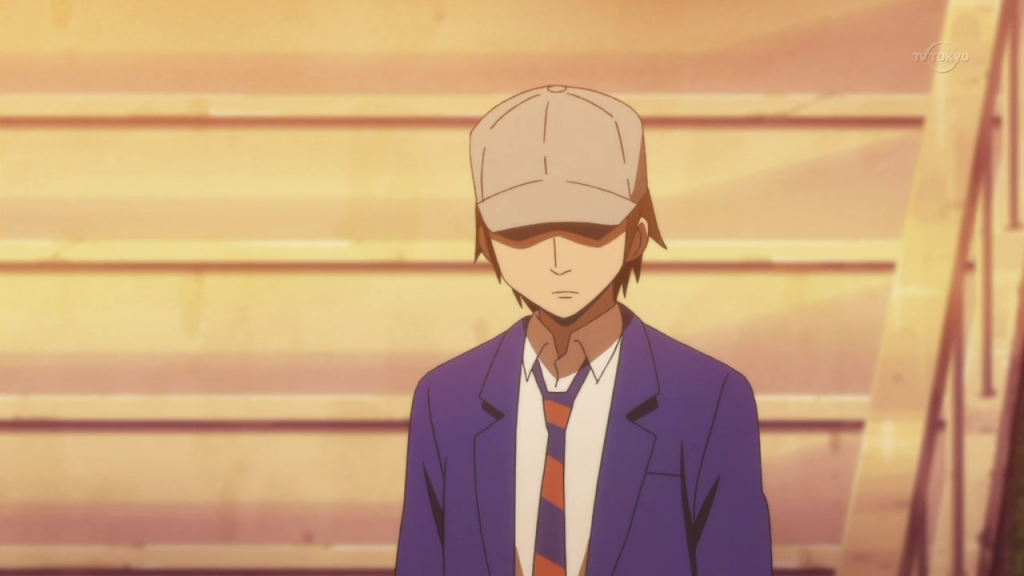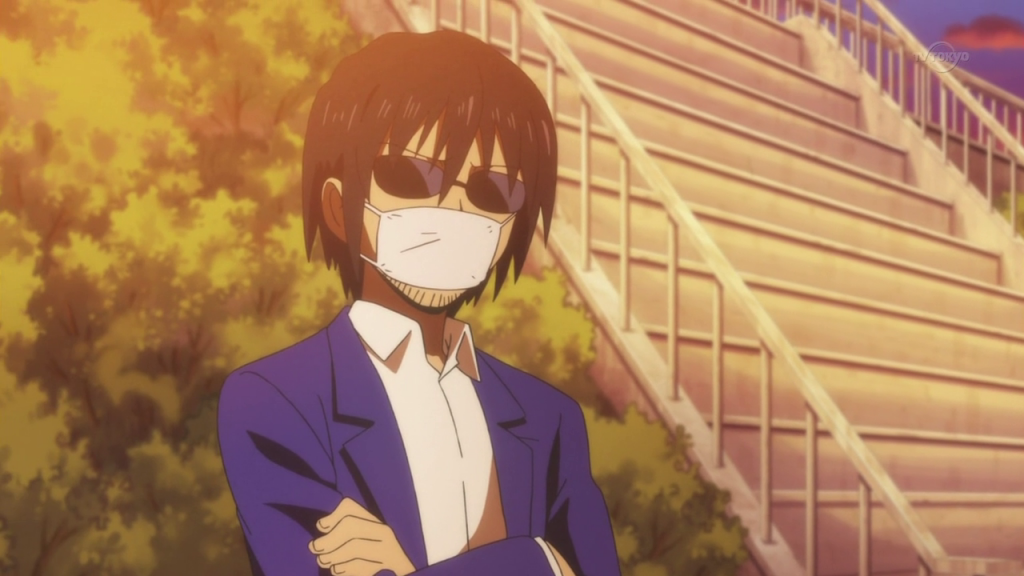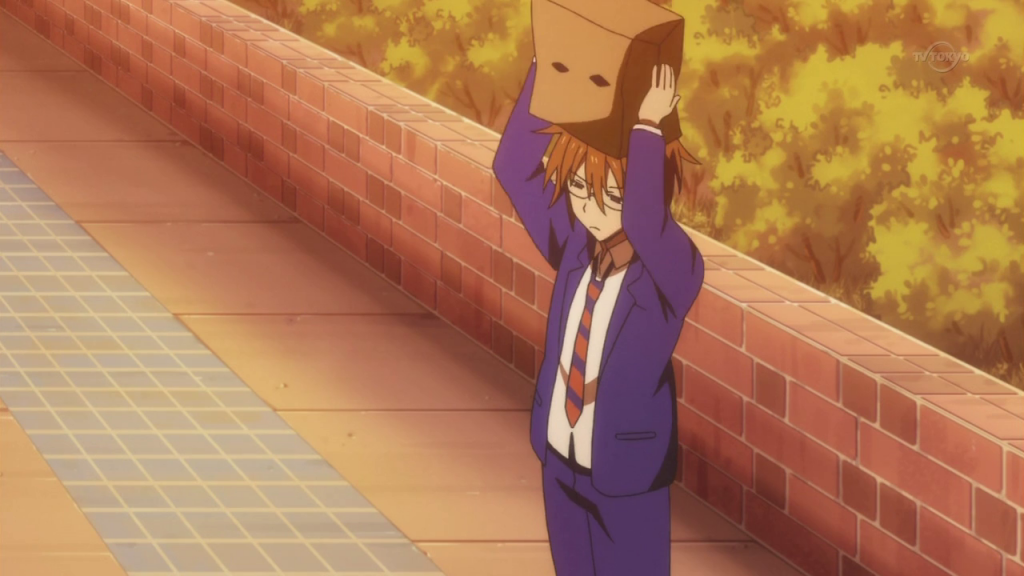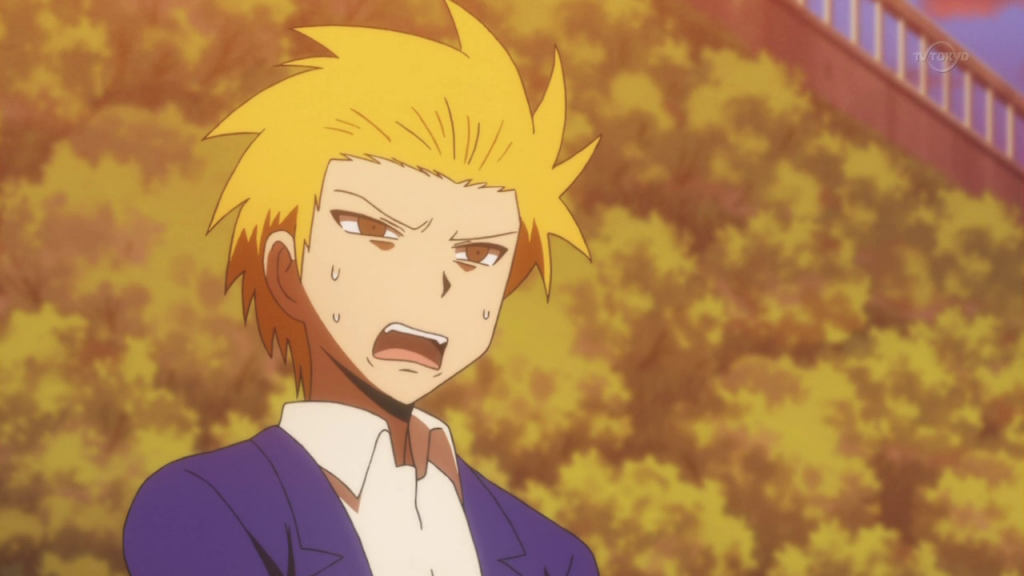 What is the worst thing? The elder brother doesn't know anything. Well, sometimes, imoutos finds is hard to approach their brothers for their problem. Maybe they are afraid of being scolded by the person closest to them. Maybe they just doesn't want their brothers to worry about them. I am not an imouto, so I can only read about it. Well, what do you think? Do you have an imouto who is like Tadakuni's imouto?
Will be continuing this review tomorrow…